Surbana Jurong unveils sustainable vertical farming concept within the urban environment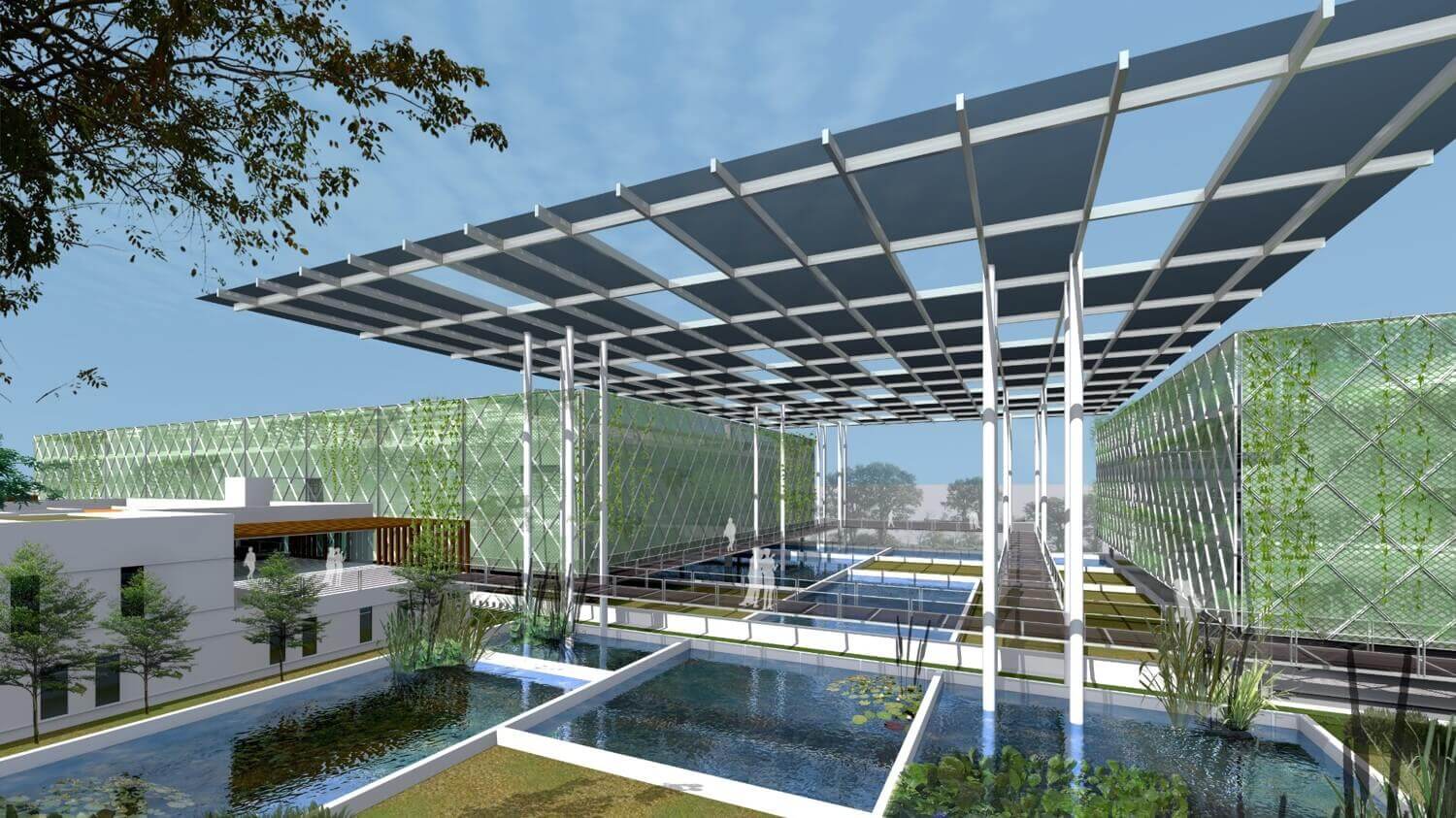 Singapore, 4 September 2017 – Imagine rearing edible fish in farms dotted around the urban environment such as in parks, unused rooftops and other community spaces. This may become a reality soon. Surbana Jurong (SJ) has developed a high-intensity vertical farming concept, Floating Ponds, that can be applied to fish, vegetable or other agricultural products.
The proposed modular and scalable Floating Ponds comprises vertically stacked fish raceways to maximise production capacity of the available space. Such a concept means farms can be commercially productive even within limited land area and thus help ensure food security in land-scarce countries such as Singapore.
Make use of any available urban space
Being modular and scalable, Floating Ponds can be built and can function within any urban space available, ranging from a park space, to un-used roof space as well as community spaces within larger commercial developments. Having the entire fish farm ecosystem within the city will bring food production and processing closer to the residents and encourage them to take a proactive role in productive farming.
Done on a large-enough scale, vertical farming could significantly contribute to Singapore's food requirement and enhance its food security.
Self-sustainable, closed-loop farm system
Floating Ponds is designed to be self-sustainable through a closed-loop ecosystem where the exchange and flow of water, nutrients and energy are integrated. This means that waste from one unit becomes input for another, reducing wastage and creating by-products of value. The spatial design and architecture of the farm works towards enabling these exchanges. The farm will also comprise a cold warehouse, processing and packing room, offices and R&D laboratories, integrating all farm processes into a singular facility. (Please refer to appended factsheet.)
Apollo Aquaculture Group's three-storey fish farm prototype
SJ is ready to implement the Floating Ponds concept with partner Apollo Aquaculture Group (AAG). AAG successfully prototyped a three-storey fish farm using their closed-system water reticulation technology. The prototype currently holds about 100,000 fish and fry. SJ's Floating Ponds concept can increase this to six storeys or more and potentially yield almost 5,000 tonnes of food-fish per year when in full operation.
This is six times more than conventional fish farm using the same amount of space.
"Surbana Jurong believes that innovative design and technology can play a significant role in agriculture and high-tech farming in land-scare Singapore. We are happy to partner Apollo Aquaculture Group in developing Floating Ponds, a concept that enables rapidly expanding high-density cities to build food resilience through creative and innovative usage of spaces. With such a vertical farming concept, Floating Ponds can maximise use of land and help make a small pocket of urban space significantly productive, enhance the surrounding ecology and generate a vibrant community hub with farming activities," Mr Wong Heang Fine, Group CEO of Surbana Jurong said.
"The farming sector is vibrant in Singapore, but there are obvious space constraints here. We need to break away from the conventional mould and advocate new ways of farming. We are delighted to collaborate with Surbana Jurong in developing Floating Ponds and look forward to modernising fish farming and bringing the aquaculture industry to new heights," Mr Eric Ng, Group CEO of Apollo Aquaculture Group said.
For media enquiries, please contact:
Lim Wee Leng (Ms)
Senior Manager, Group Communications & Branding
T: +65 6248-1124
M: +65 9663-1160
E: weeleng.lim@surbanajurong.com
Jackie Yu (Ms)
Deputy Director, Group Communications & Branding
T: +65 6839-7326
M: +65 9688-4269
E: jackie.yuwc@surbanajurong.com
About Surbana Jurong
Surbana Jurong Private Limited (SJ) is one of the largest Asia-based urban, industrial and infrastructure consulting firms. Leveraging technology and creativity, SJ provides one-stop consultancy solutions across the entire value chain of the urbanisation, industrialisation and infrastructure domains.
Headquartered in Singapore, the SJ Group has a global workforce of 13,000 employees in 113 offices across 44 countries in Asia, Australia, the Middle East, Africa and the Americas, and an annual turnover of around S$1.3 billion.
SJ has a track record of over 50 years, and has built more than a million homes in Singapore, crafted master plans for more than 30 countries and developed over 50 industrial parks globally.
SJ's motto 'Building Cities, Shaping Lives' reflects its belief that development is more than just steel and concrete. SJ creates spaces and infrastructure services where people live, work and play, shaping cities into homes with sustainable jobs where communities and businesses can flourish.
---

Download Article