Surbana Jurong scores its biggest win at Singapore's BCA Awards 2019
Surbana Jurong and KTP Consultants have swept a total of four awards at this year's Building and Construction Authority (BCA) Awards: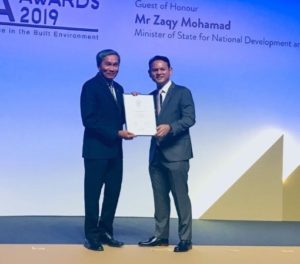 Built Environment Leadership Award GoldPLUS – Surbana Jurong
Built Environment Leadership Award GoldPLUS – KTP Consultants
Green Mark Platinum (Super Low Energy) Award – Surbana Jurong Campus
Design and Engineering Safety Award – NTU The Arc (Qualified Person: Er. Aaron Foong
In addition, projects which the Surbana Jurong Group had a hand in picked up 39 BCA Awards this year. Surbana Jurong and member companies KTP and B+H were part of the project teams.
The awards span across several categories, including: Green Mark (environmental sustainability), construction excellence, construction productivity, design and engineering safety and universal design. The awards also underscore the value that the teams from SMM, Urban Development, Township, Digital Management Office, and Sustainability and Resiliency Office bring to all projects.
Surbana Jurong's winning projects at the BCA Awards 2019
 
Project
Award
1
CapitaLand – Hoang Thanh Investment Co Ltd
Green Mark Certified (Overseas Buildings) – Seasons Avenue
2
CapitaLand Ltd
Green Mark Gold Plus Award – Peearl Bank Redevelopment
3
CGH Medical Centre
Universal Design Mark GoldPlus
4
Daewoo E&C
Construction Excellence Award (Excellence) for d'Nest Condominium Project
5
Dragages Singapore Pte Ltd
Construction Excellence Awards (EXCELLENCE) for Woodlands Care Home
6
Dragages Singapore Pte Ltd
Construction Excellence Awards (EXCELLENCE) for New Futura
7
Dragages Singapore Pte Ltd
Construction Productivity Award-Projects 2019 – Gold
New Futura – Structural Consultant
8
Expand Construction Pte Ltd
Construction Excellence Awards (EXCELLENCE) for EastBrook at Canberra
9
Expand Construction Pte Ltd
Construction Productivity Awards-Projects 2019 – Gold
Buangkok Edgeview – Architectural, Structural and M&E Consultants
10
Ho Lee Construction Pte Ltd
Construction Excellence Awards (EXCELLENCE) for Punggol Vue (Punggol West C32)
11
Kajima Overseas Asia Pte Ltd
Construction Excellence Award (Excellence) for OUE Downtown
12
Kim Seng Heng Engineering Construction Pte Ltd
Construction Excellence Awards (Merit) for Heartbeat @ Bedok
13
Lifelong Learning Institute Pte Ltd
Green Mark Platinum Award – Lifelong Learning Institute
14
Ministry of Health
Universal Design Mark 2019 GoldPLUS Award – Ang Mo Kio Polyclinic
15
Nakano Singapore (Pte) Ltd
Construction Excellence Awards (EXCELLENCE) for Rivertrees Residences
16
Nanyang Technological University
Green Mark Platinum (Super Low Energy) Award – NTU Block N3
17
Nanyang Technological University
Green Mark Platinum (Zero Energy) Award – NTU Nanyang House
18
Nanyang Technological University
Green Mark Platinum (Zero Energy) Award – NTU The Wave
19
Nanyang Technological University
Green Mark Platinum (Zero Energy) Award  – NTU Nanyang Auditorium
20
Nanyang Technological University
Green Mark Platinum (Zero Energy)  Award – School of Humanities and Social Sciences
21
Nanyang Technological University
Green Mark Platinum (Zero Energy)  Award – NTU Block N1.1
22
Nanyang Technological University
Green Mark Platinum (Zero Energy)  Award – NTU Wee Kim Wee School of Communication and Information
23
Nanyang Technological University
Green Mark Platinum (Zero Energy)  Award – NTU Administration Building
24
Nanyang Technological University
Green Mark Platinum Award – Research Techno Plaza
25
Nanyang Technological University
Green Mark Platinum Award – School of Art, Design and Media
26
Nanyang Technological University
Green Mark Platinum Award – Nanyang Executive Centre
27
Nanyang Technological University
Green Mark Platinum Award – Crescent and Pioneer Hall (Hall of Residence 17 and 18)
28
Nanyang Technological University
Green Mark Platinum Award – South Academic Complex (Main South Spine, Block S1, S2, S2.1, S2.2, S3, S3.1, S3.2, S4)
29
Expand Construction Pte Ltd
Construction Productivity Award- Hougang N9 C19
30
QingJian Realty (Sembawang) Pte Ltd
Universal Design Mark 2019 Gold Award – The Visionaire
31
Rich Construction Company Pte Ltd
Construction Excellence Awards (EXCELLENCE) for Bukit Batok N4 C14 & C15 (West Valley)
32
SGH Emergency Medicine Building
Universal Design Mark Award GoldPlus (Design)
33
Takenaka Corporation
Construction Excellence Awards (EXCELLENCE) for Changi Airport Terminal 4
34
Takenaka Corporation
Construction Productivity Awards-Projects 2019 – Platinum
Changi Airport Terminal 4 – M&E Consultants
35
The Chevrons
Green Mark Gold Plus Award – The SAF Warrant Officers and Specialists Club (THE CHEVRONS)
36
Tiong Aik Construction Pte Ltd
Construction Excellence Awards (EXCELLENCE) for Marine Blue
37
Wee Hur Construction Pte Ltd
Construction Productivity Awards-Projects 2019 – Gold
Matilda Court – Architectural, Structural and M&E Consultants
38
Welltech Construction Pte Ltd
Construction Excellence Awards (EXCELLENCE) for Park Grove @ Yishun
39
Woh Hup (Private) Limited
Construction Excellence Awards (EXCELLENCE) for SBF Center