Taking a rain check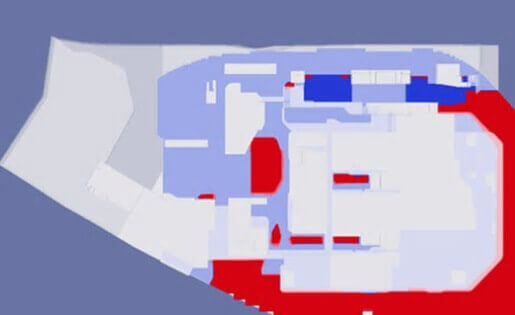 Do you sometimes forget to close the windows at home and after a sudden downpour, you find parts of your apartment ruined by rain? This is an example of Wind-Driven Rain (WDR), an important environmental factor that can significantly affect the durability of buildings.
The Sustainability team has developed its capabilities in WDR simulation, enabling it to demonstrate the effects of rain, carried by wind, into interior spaces that are either naturally-ventilated or with openings. Having successfully performed WDR simulation at the Woodlands Health Campus and Jurong Regional Line MRT Stations, SJ is currently working with the Institute of High Performance Computing to develop more advanced algorithms to further upgrade its capabilities.
The Sustainability team will extend its WDR simulation capabilities as part of its suite of services for Singapore projects. WDR simulation currently is a bonus for Green Mark version 5, (a green rating system from Singapore's Building and Construction Authority to evaluate a building for its environmental performance and design) but as more and more projects achieve Green Mark Platinum, it could well be a prerequisite requirement in future. WDR is already compulsory for all upcoming Ministry of Health projects.
Tan Szue Hann, Head of Sustainability, said, "This will also be a value-add to significant projects. We are also looking at algorithms that can apply for countries outside of Singapore, based on their climate and wind data. Our team's in-house understanding of the architectural and engineering needs of the projects will cut down a lot of back-and-forth work. And while our projects have been buildings, this can be performed for overland infrastructure projects as well."
The WDR simulations taskforce in the Sustainability team is driven by Rajesh Balachander, Praveen Hassan and Amanda Yeo.