Surbana Jurong wins top industry awards for second year running in Africa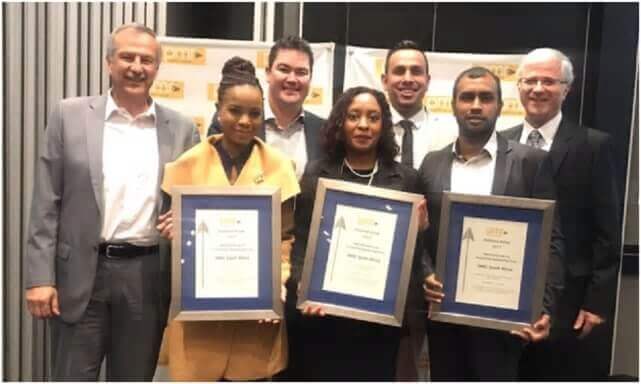 For the second year in a row, SMEC, member of the Surbana Jurong Group, Africa team has been given top recognition for its achievements in several categories at the recent Construction Industry Business Excellence Awards.
The team garnered the Top Engineering Consultant Award in three categories: Civil Consulting Engineers; Structural Consulting Engineers; and Combined Civil & Structural Consulting Engineers.
Accepting the awards on behalf of SMEC South Africa were (above picture from left to right); SMEC South Africa CEO Kostas Rontiris; HR Manager for Johannesburg Ayanda Maphumulo; Regional Manager for Gauteng South Andrew McKune; Senior Technologist, Management Services Paula Cangi; Generation Manager, Power & Energy Dinesh Baqha; Commercial Manager, Legal Terence Ganamany and SMEC Africa COO Thomas Marshall.
The awards are hosted by leading consultancy and research company PMR Africa. They are based on market research from different industries and reflect how clients rate companies.