Introducing some of SJ's best and brightest talents – Chew Aik Loong, Principal Engineer from KTP Consultants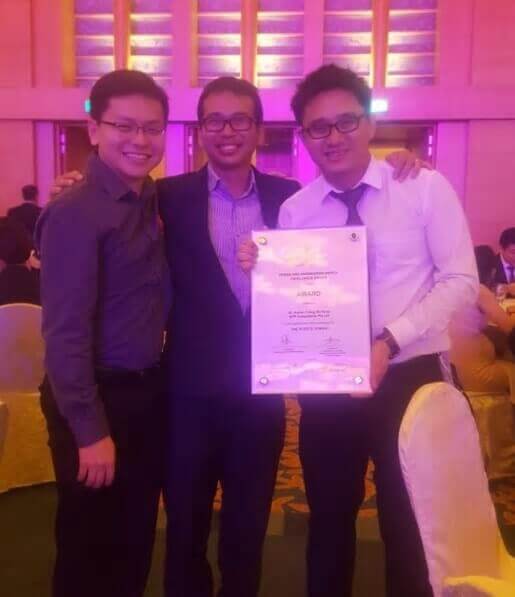 It is never easy to juggle both work and studies, but that is precisely what two of our engineers have done, for the past two years. On top of this, they have excelled in their course, passing the exams with flying colours. In this two-part feature, we showcase some of our best and brightest talents in the Surbana Jurong (SJ) family. They are Chew Aik Loong and Kang Mi, who have just completed their Masters programme, at the National University of Singapore.
In Part One of this feature, we catch up with Aik Loong, Principal Engineer from KTP Consultants, who graduated top of his class with the T Y Lin Medal and Book Prize award, as the best graduate student in structural engineering. He was on the BCA-KTP Postgraduate Sponsorship programme for the Master of Science (Civil Engineering) course.
Q1. Could you please provide a quick overview of your role at KTP Consultants?
Aik Loong: My role is that of a civil and structural engineer. My main responsibilities include the running and delivering of a project, coordinating with the various parties to ensure the deliverables are met on time, and civil and structural design work. I have worked at KTP for about five and a half years.
Q2. Congratulations on topping your class and winning the T Y Lin Medal and Book Prize Award! How does it feel?
Aik Loong: I feel happy and satisfied! I recall there are times when people told me that we do not really need to be too "serious" in post-graduate studies, as academic results are no longer relevant to us (since we are already working). However, to me, embarking on post-graduate studies was more like an opportunity to upgrade my skills and knowledge, rather than to strive for academic excellence.
Q3. Was it tough juggling both work and studies?
Aik Loong: There were challenges, especially whenever there was a heavy assignment workload. During the not-so-busy period of my studies, I would try to work overtime at the office a little more, to clear all my tasks. Hence, when the busy academic period started, I would have a lesser workload at the office. Aside from that, I am also lucky and am grateful, to have the understanding and support of both my reporting supervisor and colleagues.
Q4. How do you feel about your work at KTP? What is the one thing you most like about your job?
Aik Loong: For the five and a half years that I have been with KTP, I feel absolutely happy and blessed. I like my job; I have a sense of satisfaction and pride whenever a project is completed, especially those challenging ones. I also feel happy, as I can play a part in building cities and shaping lives.
Q5. How are your colleagues and bosses?
Aik Loong: My boss, Aaron Foong, typically ask us not to address him as "boss"! So I guess I will just address him as a reporting supervisor instead. He is a knowledgeable leader and a good mentor. I feel thankful and am indebted to him, for the mentorship and opportunities provided in my career path. I also have a team of colleagues, who are friendly, understanding and knowledgeable.
Q6. How do you handle stress at work?
Aik Loong: For me, I believe sports help me to release stress. I love swimming and badminton. I particularly like the state of being mentally free when I am swimming. I enjoy concentrating on my overall body's movement and breathing rhythm, to just swim in the pool, without anything on my mind. To me, this is a kind of meditation, allowing my mind to relax and recharge.
Q7. Please share with us something outside work, such as your likes and dislikes. Any hobbies?
Aik Loong: I like to travel, and indulge in good food, like KFC. I normally hunt for good hawker food during weekends; one of my favourites is the seafood stall at Newton Circus.
I also enjoy surfing the net. My hobbies are badminton and swimming. After work and during weekends, I like to indulge in some sporting activities, surf online and watch TV.
Q8. Any favourite movie and book? And what is your dream holiday destination?
Aik Loong: I seldom watch movies. But a movie that immediately comes to mind, which could be my favourite, is Queen of Katwe. This is a biographical film about the life of Phiona Mutesi, a Ugandan girl living in a slum in Katwe, who participated at the World Chess Olympiads. I actually caught this movie on a plane. It is a very inspirational movie, so you should watch it one day! As for books, I love reading but due to my tight schedule, I have not read any for some time. Currently, I do not have any favourite book in mind.
As for my dream holiday destination, I would like to visit Italy one day, and have a tour of Florence, Venice, Rome and the Vatican City. This is because, I am a big fan of Dan Brown, who wrote Angels & Demons and The Da Vinci Code. His books have inspired me to visit Italy!
Q9. One last question. Could you please share with our readers your life mantra or favourite quote?
Aik Loong: It is a quote from Mahatma Gandhi: "Live as if you were to die tomorrow. Learn as if you were to live forever."