Oasia Hotel Downtown Singapore named Best Tall Building Worldwide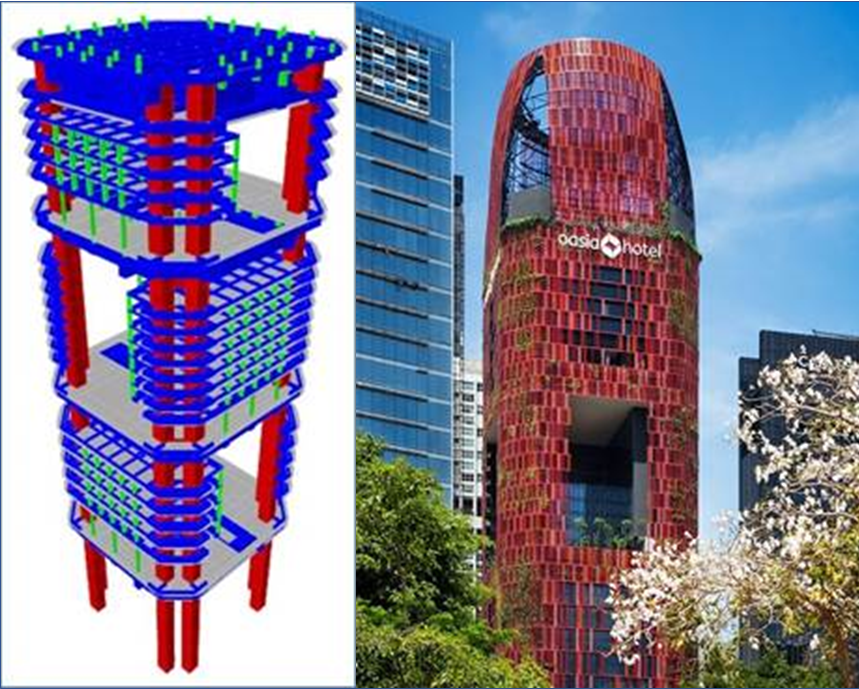 Oasia Hotel Downtown in Singapore has been named the Best Tall Building Worldwide, standing tall next to past title winners such as Sydney's One Central Park and Beijing's CCTV Headquarters. KTP, a member of the Surbana Jurong Group was the civil & structural consultant for this project.
Awarded by the Council on Tall Buildings and Urban Habitat (CTBUH), the win comes after the building was selected as Best Tall Building Asia & Australasia at the Tall and Urban Innovation Conference held on 31 May in Chicago. CTBUH is a non-profit international body that recognises achievements in the advancement of tall buildings and the urban environment, and sustainability at the highest and broadest levels.
The 193.3m, 27-storey-high building was designed to be supported on a highly innovative and unique structural transfer system which enabled an intensified use of stacked spaces of offices, hotel and club rooms at different vertical strata. It also incorporates "skyspaces" uniquely designed with additional open-sided "ground" levels throughout.
In this geometrically challenging design, the team performed sophisticated and rigorous engineering analysis, ensuring the construction buildability and overall long-term behaviour were accounted for.
The Oasia Hotel Downtown Singapore won not only because it incorporated 60 stories of green walls along the exterior, but because of its significant commitment to communal space. The tower has also allocated over 40 per cent of its volume to open air communal terraces in the sky.
The realisation of this highly complex structural form is a testament to our unwavering commitment from our engineers who persistently pushed boundaries of innovation while firmly guided by first principles of structural engineering.