A glimpse into AETOS' UAVs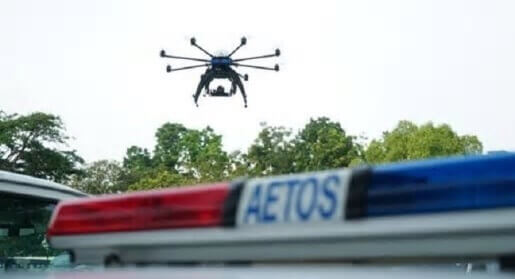 The commercial use of drones has been prevalent in recent years and one may wonder, what exactly is the whole fuss about these aerial machines, or better known as Unmanned Aerial Vehicles (UAVs)? As AETOS was one of the three companies to be awarded the prestigious Master Contract last November by the Ministry of Transport in Singapore to provide UAVs to public agencies, Robin Littau, Vice President of Business Development, share his thoughts on this technology.
See below a brief exchange with Robin.
Q1. What can we achieve with UAVs and what are some of the current business applications as well as potential opportunities?
Robin: Harnessing innovative technologies, such as UAVs, helps to enhance the productivity of our frontline officers and labour-intensive operations. We initially got into this business after a request from a government ministry to use UAVs for monitoring and surveillance of security operations. Interestingly, the bulk of our business now is mostly non-security related! Some current applications include: land survey, video production, inspection services for buildings and construction sites, as well as accident investigation.
In addition to these applications, future considerations for the use of UAVs include: road, rail tunnels and pipeline inspection. UAVs can also be used as part of an integrated security solution for perimeter intrusion detection, such as key installations and vital infrastructures.
Q2. What was one of your most interesting UAV projects?
Robin: In 2015,National Environment Agency awarded a contract to AETOS to capture aerial footages of its new facility on Semakau Island. This was particularly memorable because of the challenges that we faced – having to launch and land the UAV from a small boat in open waters, and to navigate it through strong winds and rocky seas! Despite these challenges, we managed to capture the crucial shot and the Minister himself was thoroughly impressed with the end result during the official opening.
Q3. What are some of the challenges that you face?
Robin: We have to adhere to the stringent rules set by the regulator, Civil Aviation Authority of Singapore. Currently any commercially operated UAV must be flown in line of sight and below 200ft; weight including payload must not exceed 7kg, and it cannot be flown within 5km of any aerodrome. Obtaining the necessary flying permits in a timely manner for time-sensitive project can sometimes pose as a challenge for us.