One of Singapore's top architectural practices, we deliver creative designs and practical solutions.
Keeping a good balance between functional performance and design aesthetics is the cornerstone of any architecture project.
Our architects push boundaries with bold visions while our Green Mark certified professionals proactively ensure sustainability. Our innovative designs have been recognised locally and internationally, with accolades ranging from FIABCI (International Real Estate Federation) Excellence Awards, Asian Habitat Society Awards and Singapore Institute of Architects Design Awards to Building and Construction Authority (BCA) Green Mark and Universal Design Awards.
The Surbana Jurong Group architecture business also comprises award-winning architectural firms – B+H, a Canadian architecture firm; SAA, one of Singapore's leading architecture firms; and Sino-Sun, one of China's top privately owned design institutes. Together with these brands, the group is today one of the top multidisciplinary consulting firms with over 1,000 architects and design specialists worldwide. It also has the largest number of architects registered with the Singapore Board of Architects, with over 90 locally registered architects qualified to design and licensed to sign and submit architectural plans and documents to the authorities governing the construction or alteration of buildings in Singapore.
Surbana Jurong Group is ranked among the top 100 architecture practices worldwide in the World Architecture 100 (WA100) 2020 ranking. WA100 is an annual ranking of the world's largest practices based on the number of fee-earning or registered architects they employ.
---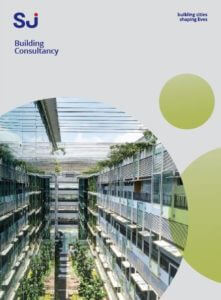 Building Consultancy Brochure

English