Surbana Jurong buying SMEC for $400m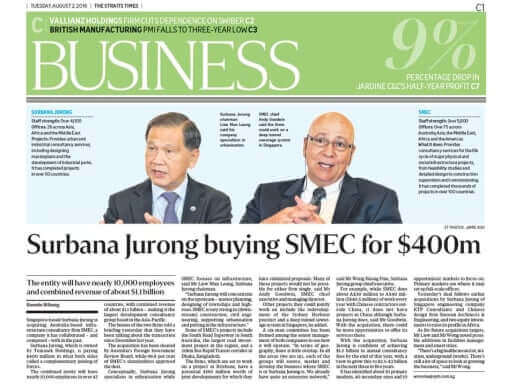 Singapore-based Surbana Jurong is acquiring Australia-based infrastructure consultancy firm SMEC, a company it has collaborated – and competed – with in the past. Click here to read more.
(The Straits Times © Singapore Press Holdings Limited. Reproduced with permission)
________________________________________________________________________________
In August 2016, Surbana Jurong Group acquired SMEC Group for its complementary engineering strengths, expertise, talent pool and long-standing history of projects both in Australia and internationally.  During the acquisition process, SMEC's management advised Surbana Jurong Group that an investigation was underway into allegations of suspected instances of misconduct dating back to 2000, and provided Surbana Jurong Group with material relating to these allegations and to SMEC's own independent investigation which Surbana Jurong Group and its external advisers carefully considered and evaluated.  Surbana Jurong Group management considered that similarities of its corporate values and culture and SMEC's, supported by SMEC's consistent focus on improving its corporate governance framework, created a solid and transparent platform for a successful partnership.
---

Download Article