Award for Restoration recognises exemplary restoration of gazetted heritage buildings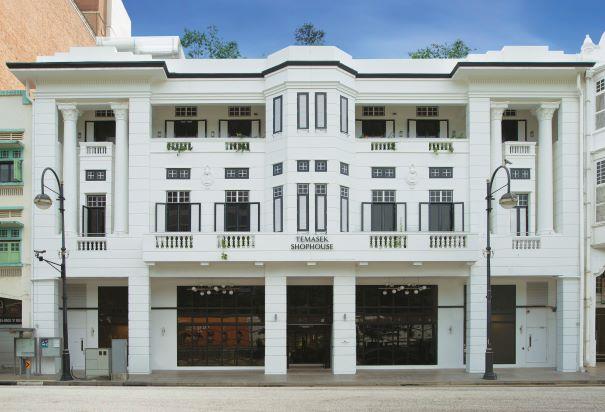 Front Facade of Temasek Shophouse
Singapore, 22 October 2019 – Temasek Shophouse has been awarded the 2019 Award for Restoration at the annual URA Architectural Heritage Awards, that recognises exemplary restoration of gazetted heritage buildings. The restoration project was commended for adhering to the three 'R' principles of maximum retention, sensitive restoration and careful repair.
Surbana Jurong is the lead multidisciplinary consultant for the project and is involved in the general space planning and architectural design, with Asylum coordinating the bulk of the interior design.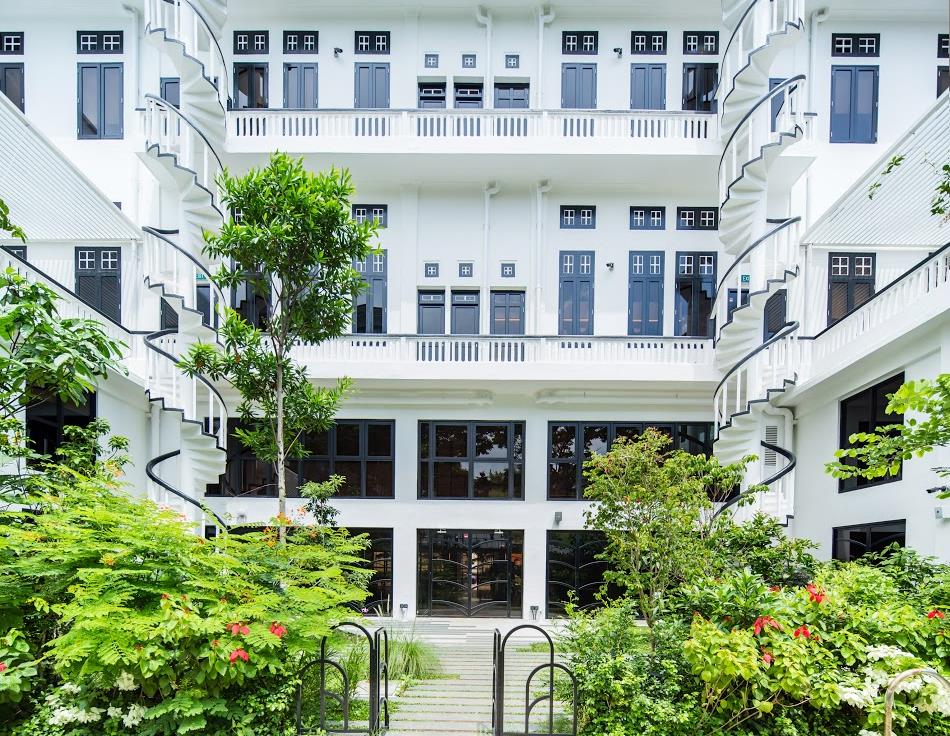 Garden Entrance of Temasek Shophouse
Built in 1928, the gazetted building was unoccupied for nine years and in a state of disrepair. The challenge was to restore the original character of the shophouse that had two distinct architectural languages; Neo-Classical and Edwardian on the building facades. Refurbishment work was done over 18 months to carefully preserve the unique appearances and long history of the shophouse. Attention was also paid towards selecting sustainable materials for the restoration, as well as utilising natural light and LED light fixtures. For their green efforts, the building obtained the BCA Green Mark GoldPlus for existing buildings.
"We thank URA for recognizing the efforts behind the restoration. Temasek Shophouse was initiated by Temasek back in 2017 to transform the unoccupied conservation shophouses into a social impact hub right at the heart of Orchard Road. Managed by Temasek Trust, Temasek Shophouse is a gift from Temasek to the community. As a cradle for social impact to advance sustainability and achieve common good for the community, this award gives affirmation to the teams behind the project as we build a place where purposeful hardware and heartware come together," said Yvonne Tay, Director of Temasek Shophouse.
"The shophouse had witnessed several key milestones in Singapore's history, and Surbana Jurong is honoured to be given the opportunity to breathe new life to an otherwise forgotten building. The Award for Restoration at the 2019 URA Architectural Heritage Awards is a recognition of our capabilities in restoration works and we hope to continue to play a key role in preserving the heritage of Singapore's colonial buildings," said Yeo Choon Chong, Chief Executive Officer, Singapore, Surbana Jurong.
"We are pleased to see the preservation and adaptive reuse of this conserved State property into a co-working space that supports both business and philanthropy. We welcome more of such innovative proposals for State properties that optimise land use and benefit the community," said Yap Eai-Sy, SLA Director of Business Planning and Development.
Into its 25th year, the annual Awards aim to promote public awareness and appreciation of quality restoration of National Monuments and conserved buildings in Singapore.
As part of URA's Architectural Heritage Season, Temasek Shophouse will be open for a public tour on Saturday, 9 November 2019. All interested parties are required to register in advance. Find out more details below, or from https://aha-2019-winners-tour-public.eventbrite.sg
For photos of Temasek Shophouse, please refer to this link. Please credit the photos to Temasek Shophouse.
– end –
About Temasek Trust
Established in 2007, Temasek Trust is an independent Trustee of philanthropic endowments and gifts. Its purpose is to ensure sustainable funding for the long term well-being and security of our communities. Our work supports our beneficiaries to uplift people, communities, and capabilities and to rebuild lives. Temasek Trust provides governance and financial oversight for its beneficiaries which include the Temasek Foundations and Stewardship Asia Centre. The Trust serves to create new pathways for philanthropy and to inspire and enable giving.
About Temasek Shophouse
Temasek Shophouse is gifted by Temasek to Temasek Trust as a cradle for social impact that seeks to encourage, enhance and elevate initiatives and activities that contribute towards the common good. Nestled along downtown Orchard in a heritage building constructed in 1928, its facilities today include an event space and an embedded social enterprise café, a rooftop garden, co-working spaces, meeting and function rooms, and offices for the staff from the Temasek Trust, Temasek Foundation, and Stewardship Asia Centre.
About Surbana Jurong
Surbana Jurong is one of the largest Asia-based urban, infrastructure and management services consulting firms, with close to 70 years of track record in successful project delivery. Headquartered in Singapore, the Surbana Jurong Group of companies comprises SMEC and Robert Bird Group in Australia, Sino Sun in China, AETOS, KTP and SAA in Singapore and B+H in Canada.
Our global talent pool of over 16,000 employees from more than 120 offices in over 40 countries worldwide includes architects, designers, planners, engineers and other specialists, who are driven by progressive thinking and creative ideas to help shape a better future.
Our technical experts deliver best-in-class solutions that cover the entire project life cycle from planning and design, through to delivery and management, and even decommissioning and closure. We provide a full suite of consultancy services across a diverse range of sectors such as aviation, healthcare, hospitality, transport, water and environment, energy and resources.
With a wealth of experience, we have built more than a million homes in Singapore, crafted master plans for more than 30 countries and developed over 100 industrial parks globally, building homes and designing cities that are socially, economically and environmentally sustainable, empowering communities to thrive.
For more information, please visit www.surbanajurong.com.
For media queries, please contact:
Sheena Kwek
M: 9438-3851
E: sheena.kwekyx@surbanajurong.com
Poon Shing Yi
M: 9750-1707
E: shingyi@temasektrust.org.sg
For more information:
Annex A: Heritage building refurbishment of Temasek Shophouse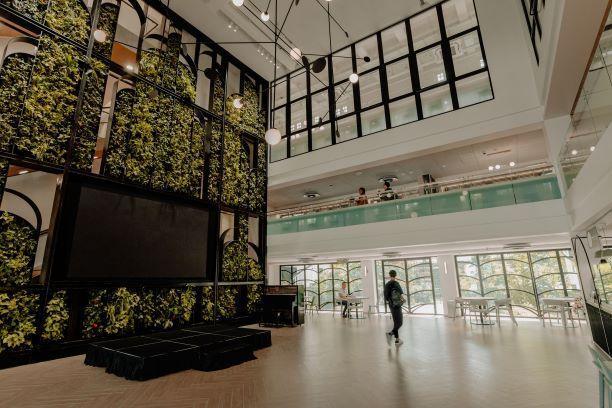 Temasek Shophouse covers a site area of 835 square metres, with a floor area of 2,334 square metres. Visitors will immediately be drawn to an interior green wall of locally grown flora upon entry. There are also outdoor gardens attracting butterflies, birds and bees, as well as carefully conserved features such as outdoor spiral staircases and lighting which accentuate the building's historical façade at night.
The refurbishment of this heritage building, which has been unoccupied for nine years, was done over 18 months to sensitively preserve the façade and character of the building's history. Its renovation is inspired by conservation and biophilic design.
The building was constructed in 1928 as part of the post-war development plans for Orchard Road. It was gazetted for conservation in 2000 for its rich and diverse architectural style, ranging from ornate and decorative classical features to a modern Art Deco style.
Biophilic design, or designing with nature, takes centre stage when refurbishing the Temasek Shophouse. Led by Surbana Jurong, great efforts have been made to creatively incorporate natural elements into the three-storey shophouses.
Upon entering the Temasek Shophouse, visitors are greeted by a green wall created for its ability to clean the air by reducing dust, carbon dioxide and sound abatement. Housing some 27 plant varieties, a special microclimate cooling system was also installed to help the flora thrive in the urban space.
Temasek Shophouse seeks to increase the biodiversity within a small footprint, and especially to mimic a habitat within a rainforest in the tropics. In consultation with urban greening specialist Greenology, more than 100 different local species of plants and trees were planted during the refurbishment of the building.
The Temasek Shophouse was awarded the Building and Construction Authority (BCA) Green Mark GoldPlus Award for its efficient ventilation system, energy saving system, smart water system, use of sustainable building materials and furnishings, and greenery living.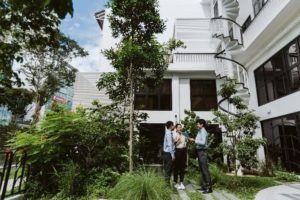 Interior design inspired by nature
Designed by Asylum, the interior of Temasek Shophouse is largely influenced by the distinct Art Deco architectural style of the building.
Visitors entering the Temasek Shophouse are greeted with an open Atrium that connects Level 1 and Level 1 Mezzanine, through to Level 2. As the heart of Temasek Shophouse, this open Atrium with its lush green wall, aims to bring nature closer to guests.
Recognised by its streamlined aesthetics, an Art Deco-inspired light feature suspends above the Atrium as a distinct centrepiece, bringing ambient lighting and a warm environment to welcome guests. A café sits on Level 1 – a centre for community gathering and budding ground for Temasek Shophouse, a cradle for social impact.
The design team aims to reflect the building's heritage and beauty through the design process and further reimagine it with modern lenses – all the while staying true to the building's origin and projecting a spirit of optimism to the interior space. Pockets of green and natural light are introduced throughout the Temasek Shophouse, including washrooms, for one to be close to nature on every level. A bright colour palette is selected to complement the nature within the space.
Offices, meeting rooms and lounge spaces are designed for organic use. Furthermore, meeting rooms are named after native bird species to amplify the biophilic design concept.
● On Level 1 – Bulbul and Dove
● On Level 1 Mezzanine – Flameback, Heron, Kingfisher, Koel and RedShank
● On Level 2 – Sunbird and Swallow
● On Level 3 – Sparrow and Starling
● Sky Garden – Hornbill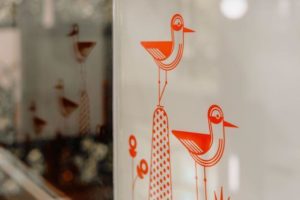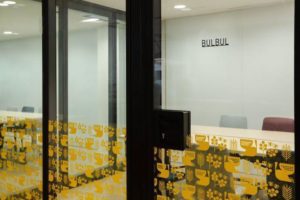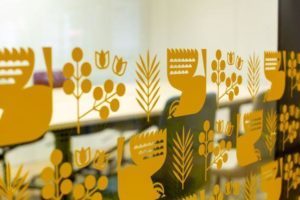 Curated art pieces and a collection of furniture made from recycling waste materials can be found in selected spaces to reflect Temasek Shophouse's values and beliefs.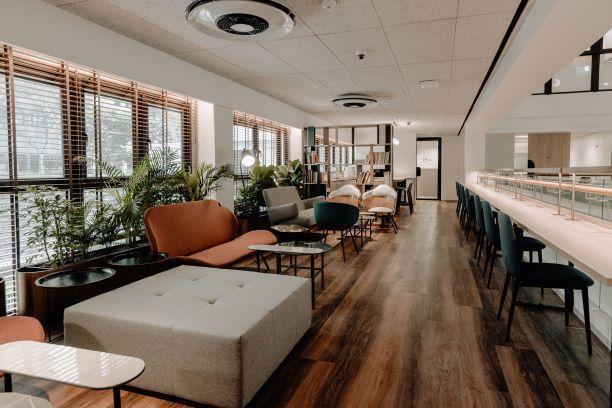 Credit all photos to: Temasek Shophouse