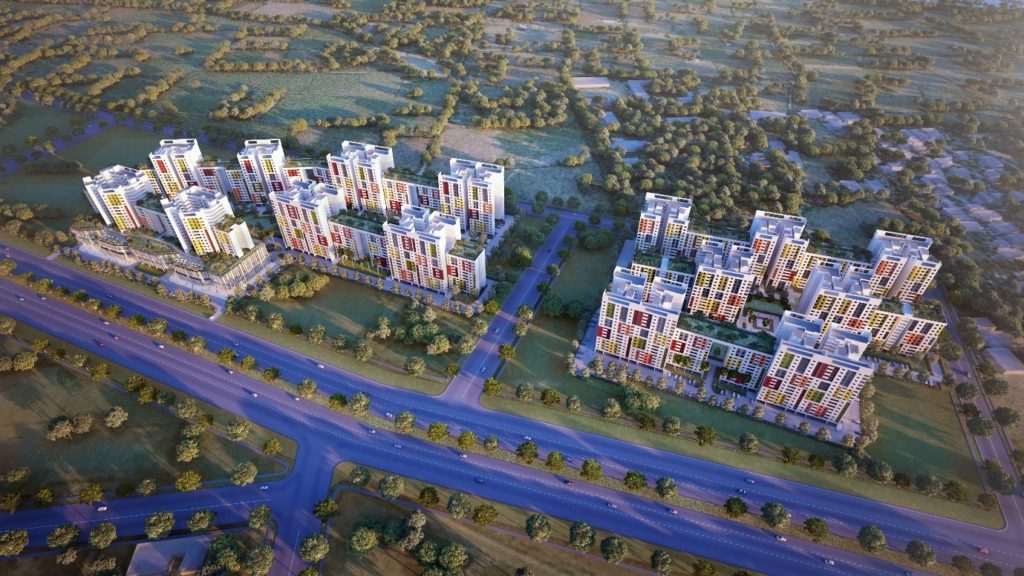 Aerial view of one of the Gujarat townships designed by Surbana Jurong
Singapore, 25 November 2019 – Surbana Jurong, one of the largest Asia-based global urban, infrastructure and management services consulting firms, has secured a 15,000-unit affordable housing project in Gujarat, India. The project was awarded by Gujarat Housing Board through a quality and fee-based tender process. This marks a significant milestone for Surbana Jurong as it extends its affordable housing expertise beyond Singapore.
For the Gujarat housing project, Surbana Jurong is providing master planning, concept design, design review and project management services for approximately 15,000 homes across 12 sites in the next four years. These sites are located in cities with high population densities – Ahmedabad, Surat, Vadodara and Rajkot. The project incorporates some of Singapore's best practices to make Gujarat's public housing more vibrant, sustainable and liveable.
Township Design
The concept design embodies key principles drawn from Singapore's townships. These principles include connectivity, environmental sustainability, social community, safety, universal design, construction productivity and maintainability.
Surbana Jurong's township design for the Gujarat project will foster social interactions by featuring community-centric spaces such as roof gardens, activity courtyards, playgrounds and outdoor fitness stations. These facilities will be located within safe and vehicular-free community spaces. The Gujarat townships will also include some of Singapore's distinctive public housing features such as void decks. In addition, there will be other modern lifestyle amenities such as sky gardens, outdoor dining areas, meditation decks and play lawns. These features are new to Gujarat, setting a precedent for future affordable housing in India.
The concept plan also ensures each housing plot has its distinctive design and unique identity, in response to the cultural and geological context of each site. To ensure construction productivity, the design of the townships will be modular and adaptive to suit different sites.
Gujarat Housing Board has built homes in urban cities such as Ahmedabad, Surat, Rajkot, Bhavnagar, Jamnagar, and towns such as Bhuj, Vapi, Bharuch, Veraval, Porbandar and Gandhidham. The Gujarat Housing Board is committed to achieve the target set by the Prime Minister of India to provide housing for all by 2022.
Mr Lochan Sehra, Commissioner of Gujarat Housing Board said, "We are inspired by Singapore's public housing model. We believe that through Surbana Jurong's deep expertise and strong track record in Singapore's public housing and global townships, we can redefine public homes in Gujarat and uplift the residents' quality of life. Many of the features are new to Gujarat and will potentially set a precedent for future affordable housing in India."
Mr Wong Heang Fine, Group Chief Executive Officer of Surbana Jurong said, "Over the last five decades, Surbana Jurong's historical public housing footprint includes the creation of master plans for over 30 countries including China, India, Malaysia and Myanmar. We have completed China's first Singapore inspired public housing, Tianjin Eco-City and Myanmar's first Singapore inspired public housing, Dagon Seikkan Township. We will continue to leverage on our expertise in planning and designing Singapore's public housing townships and market that expertise overseas where there is a critical need for affordable public housing."
He adds, "In Singapore, we have master planned 26 townships that have provided over 1 million homes. By adopting the key principles of Singapore's public housing design, we believe that the Gujarat housing townships will create new standards in affordable public housing design in India. We will be opening our Gujarat project office in early December 2019 to oversee the completion of this housing project."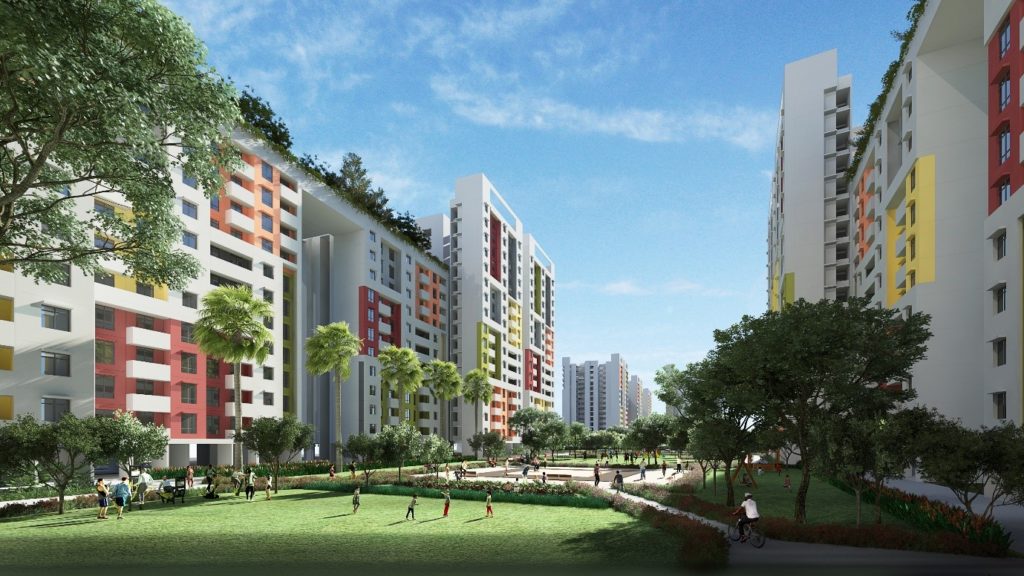 Central community space flanked by apartment blocks that are modelled after the best of Singapore's public housing design and adapted for Gujarati context
– end –
About Surbana Jurong
Surbana Jurong is one of the largest Asia-based urban, infrastructure and management services consulting firms, with 70 years of track record in successful project delivery. Headquartered in Singapore, the Surbana Jurong Group of companies comprises SMEC and Robert Bird Group in Australia, Sino-Sun in China, AETOS, KTP and SAA in Singapore, and B+H in Canada.
Our global talent pool of over 16,000 employees from more than 120 offices in over 40 countries worldwide includes architects, designers, planners, engineers and other specialists, who are driven by progressive thinking and creative ideas to help shape a better future.
Our technical experts deliver best-in-class solutions that cover the entire project life cycle from planning and design, through to delivery and management, and even decommissioning and closure. We provide a full suite of consultancy services across a diverse range of sectors such as aviation, healthcare, hospitality, transport, water and environment, energy and resources.
With a wealth of experience, we have built more than a million homes in Singapore, crafted master plans for more than 30 countries and developed over 100 industrial parks globally, building homes and designing cities that are socially, economically and environmentally sustainable, empowering communities to thrive.
For more information, please visit:
Website: surbanajurong.com
Facebook: facebook.com/surbanajurong
LinkedIn: linkedin.com/company/surbanajurong
For media queries, please contact:
Sheena Kwek
Group Communications & Branding
Tel: +65 6839 8290
Mobile: +65 9438 3851
Email: sheena.kwekyx@surbanajurong.com