SJ CityGlobal is the development management arm established within Surbana Jurong.
Drawing on our vast array of services, we offer consultancy solutions for the entire life-cycle of your project. Whatever your development project requires, we have the expertise to offer customised and creative solutions, and access to financial and operations support.
Our mandate includes undertaking the management of master developments and providing end-to-end solutions in urban and infrastructure developments.
We work with land and building owners, from planning every process to managing the implementation. Our local, regional and global expertise allow us to support you at every level. From feasibility studies, strategy planning and development, through to delivery, operation and management, we have the capabilities to add value to every stage of the projects we work on.
Customised strategies and in-depth studies address development needs at the planning stage while the adoption of innovative technology ensures cost savings and timely delivery of high quality projects.
---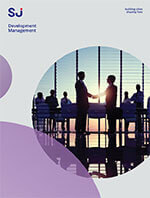 Development Management Brochure

English