Singtel and Surbana Jurong forge first of its kind strategic alliance to accelerate smart city transformation
Singapore, 13 April 2021 – Singtel and Surbana Jurong signed a Memorandum of Understanding (MOU) to form a first of its kind strategic alliance integrating technology and infrastructure to co-create smart city solutions that will accelerate the transformation of key industries. To kickstart the partnership, the two companies will first focus on smart and sustainable integrated facilities management.
Surbana Jurong, which designs, plans and manages some of the largest urban and infrastructure facilities around the world, will provide the breadth and scope required to pilot the application of technology solutions, while leading Asian communications group Singtel brings on board its capabilities in 5G and emerging technologies to design solutions to advance the transformation of industries.
Mr Wong Heang Fine, Group CEO, Surbana Jurong said, "Today's agreement will bring together a talent force of technologists and innovators to enable businesses to advance their transformation in smart and sustainable ways. Leveraging Singtel's expertise, Surbana Jurong's multidisciplinary capabilities, 5G and advanced technologies, this partnership of two industry leaders has the potential to accelerate the creation of smart and sustainable cities globally."
Mr Bill Chang, Chief Executive Officer, Group Enterprise at Singtel said, "The pandemic has accelerated the digitalisation of many enterprises, transforming their capabilities and business models. Through this strategic partnership with Surbana Jurong, with our combined capabilities and leveraging Singtel's 5G edge cloud platform, we will support our targeted industries' digital transformation and help in their post-COVID19 recovery with advanced technologies and sustainable solutions. Our successful showcase in Singapore will create iconic references and open the doors to more exciting opportunities in the region."
The partnership will integrate Singtel's 5G Multi-access Edge Compute and Surbana Jurong's P24K suite of facility management systems to create an industry-first 5G-powered data aggregation and management platform that tracks, monitors and manages multiple operations simultaneously. The integrated system will aggregate data about space, water, energy, utilisation and indoor air quality from sensors to help facility managers drive greater operational efficiency and achieve their smart and sustainable goals.
One of the key services which the integrated system supports is building security. From delivering intelligent surveillance and monitoring solutions, providing greater situational awareness to security providers, the integrated system can help users, tenants and visitors in smart buildings anticipate and respond more swiftly to security incidents. In addition, both companies are also exploring the use of drones to inspect, maintain and monitor buildings remotely for security.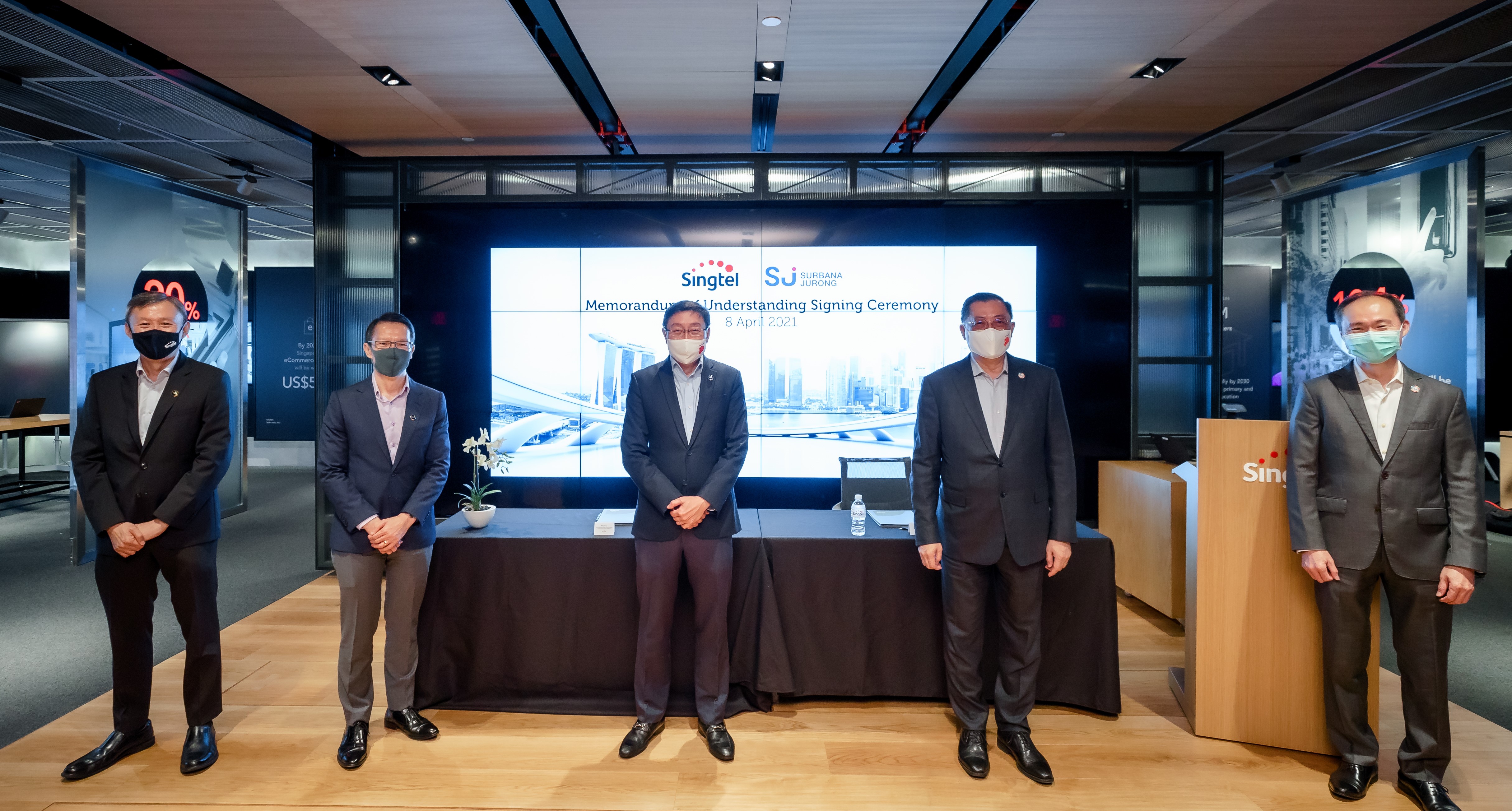 At the MOU signing between Singtel and Surbana Jurong are (from left to right): Andrew Lim, Managing Director, Government and Large Enterprise, Group Enterprise, Singtel; Lim Seng Kong, Managing Director, Singtel Enterprise Business, Group, Enterprise, Singtel; Bill Chang, CEO, Group Enterprise, Singtel; Wong Heang Fine, Group CEO, Surbana Jurong; Quek Swee Kuan, CEO, New Business, Surbana Jurong
About Singtel
Singtel is Asia's leading communications technology group, providing a portfolio of services from next-generation communication, technology services to infotainment to both consumers and businesses. For consumers, Singtel delivers a complete and integrated suite of services, including mobile, broadband and TV. For businesses, Singtel offers a complementary array of workforce mobility solutions, data hosting, cloud, network infrastructure, analytics and cyber-security capabilities. The Group has presence in Asia, Australia and Africa and reaches over 700 million mobile customers in 21 countries. Its infrastructure and technology services for businesses span 21 countries, with more than 428 direct points of presence in 362 cities.
About Surbana Jurong Group
Surbana Jurong Group is a global urban, infrastructure and managed services consulting firm, with over 70 years of track record in successful project delivery. Headquartered in Singapore, the group has a global talent pool of over 16,000 across Surbana Jurong and our member companies AETOS, Atelier Ten, B+H, KTP, Prostruct, RBG, SAA, Sino-Sun and SMEC, based in more than 120 offices in over 40 countries. They include architects, designers, planners, engineers and other specialists driven by progressive thinking and creative ideas to shape a better future.
Our technical experts deliver sustainable solutions that cover the entire project life cycle from planning and design, through to delivery and management, as well as decommissioning and closure. We provide a full suite of multidisciplinary consultancy services across a diverse range of sectors including aviation, healthcare, hospitality, transport, energy, water and the environment.
Surbana Jurong has built more than a million homes in Singapore, created master plans in more than 30 countries and developed over 100 industrial parks globally. Our tag line "Building Cities, Shaping Lives" expresses how every project or undertaking is, for the Group, an opportunity to fulfil aspirations and enrich lives. By designing and delivering quality housing, work spaces, roads, rail, hydropower, dams, underground and coastal protections and other critical infrastructure needed by our clients, we are redefining cities and transforming them into sustainable and liveable spaces where communities and businesses, present and future, can thrive.
For more information, please visit: www.surbanajurong.com.
Media Contact:
Geraldine Cheong
Deputy Director, Group Communications & Branding
Email: geraldine.cheongwl@surbanajurong.com