Surbana signs two MOUs at the Singapore-Guangdong collaboration council (SGCC)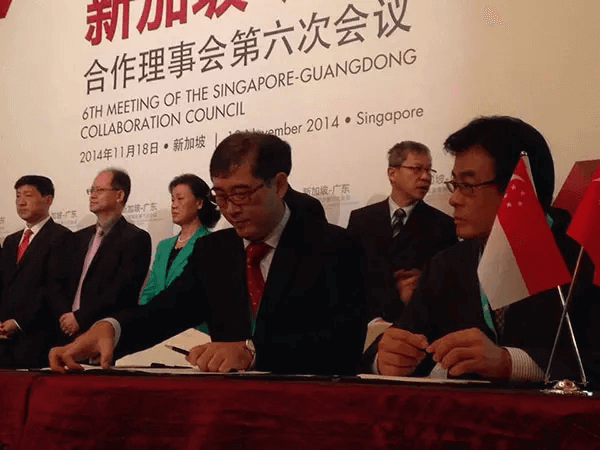 Singapore, 18 November 2014 – Surbana International Consultants signed two Memorandums of Understanding (MOUs) today for projects in Guangdong, highlighting the strong business ties between Surbana and its business partners in Guangdong province. The first MOU is a three-way collaboration between Surbana, Guangzhou Knowledge City Administrative Committee (GKCAC) and the SSGKC to assist in master planning, architectural and city management services within the SSGKC. Specifically, both parties are studying the possibility of collaborating on 'Oriental International Health Valley' – an upcoming integrated healthcare development in Guangzhou.
The second MOU is between Surbana and the Guangzhou Development District Commercial Development Group to pilot an Integrated Estate Management System (IEMS) in Fengshan Garden, a resettlement housing estate in North East Guangzhou housing over 700 households. The project aims to improve the delivery of the municipal services in Fengshan Garden through the IEMS, which leverages on IT systems and business process reengineering. The pilot programme, if implemented, is targeted to commence by February 2015, after which both parties will review the outcome and consider further collaborations in other parts of the Guangdong.
Singapore's IEMS, a smart community solutions system created by Surbana, is used by all local Town Councils spanning over 20 townships. Through the IEMS, Surbana monitors over 20,000 lift systems real time and also tracks approximately 70,000 feedbacks from its users on a monthly basis.
Said Surbana's CEO, Mr Pang Yee Ean, "We are very happy that our partners for the Oriental International Health Valley and the Fengshan Garden projects are keen to work with us. Surbana has a strong track record in managing townships with the IEMS and we aim to customise a system that will be relevant and effective to the unique requirements of Fengshan Garden. The Health Valley project is an opportunity for Surbana to demonstrate our strong experience in master planning and developing integrated healthcare developments, as seen through the Novena Health City Masterplan which we developed. Novena Health City was one of the three finalists in the recent World Architectural Festival awards under the Healthcare (Future Projects) segment."
Said Sino-Singapore GKC's Chairman, Mr Xu Hongsheng, "We have heard about the capabilities of Surbana's IEMS and we hope that through this test-bed at Fengshan Garden, we will be able to gain from Surbana's wealth of experience in social and city management. We hope to build on the success of this pilot and continue to grow Guangzhou Knowledge City into a vibrant city in the next decade."
Echoed GKC Administrative Committee's Vice-Chairman, Mr Li Hongwei, "Surbana has done a wide range of successful projects including medical ones and this is a key reason why we would like to cooperate with them in the development of 'Oriental International Health Valley'. With this strategic partnership, we hope to build Guangzhou Knowledge City into a liveable city over the next few years."
The Singapore-Guangdong Collaboration Council was held on 18 November 2014 and co-chaired by Mr Lui Tuck Yew, Singapore's Minister of Transport, and Guangdong's Vice-Governor Ms Zhao Yufang.