Surbana Jurong signs MOU with Myanmar Construction Entrepreneurs Association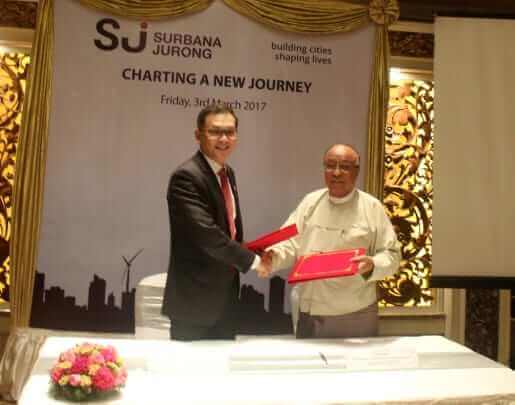 Myanmar, 3 March 2017 – Surbana International Consultants (Myanmar) has signed a Memorandum of Understanding (MOU) with the Myanmar Construction Entrepreneurs Association (MCEA) to be the Association's lead technical consultant for low cost and affordable housing projects in Myanmar. The MOU was signed by Teo Eng Cheong, Chief Executive Officer International (Singapore, Southeast Asia, North Asia) of Surbana Jurong Private Limited and Tha Htay, President of the MCEA.
The signing of the MOU between Surbana Jurong and MCEA comes at an important time as the association works with the Union Government to meet the demand for low cost and affordable housing and increasing home ownership in the country. The Government's Five-Year Plan aims to deliver one million residential units by 2030. Surbana Jurong will assist MCEA in the development of a low cost and affordable housing prototype design that focuses on the 3Cs: Community, Connectivity and Constructability.
Future homeowners can look forward to a living space designed to cultivate strong community bonds and preserve the natural environment. A range of community-focused spaces such as courtyards and lobbies will be integrated into the estates to encourage interaction. Landscaped pathways that link residents to amenities will also be key features of the estates. Surbana Jurong will assist MCEA by employing technology that minimises construction time and cost without compromising on design, safety and functionality.
The MOU with MCEA enhances Surbana Jurong's extensive presence and success in Myanmar since its entry into the market four years ago. Surbana Jurong has provided its expertise in master-planning, architecture and engineering to various residential and industrial projects including the 220 acre Ayeyarwun – Yadanar affordable housing project in Dagon Seikkan Township. The company, with a track record of building more than one million affordable homes in Singapore, has grown from strength to strength with its acquisition of AETOS Holdings and SMEC Holdings in 2016.
"Surbana Jurong has built cities and shaped lives for more than 50 years. We have participated in the evolution of affordable housing in different countries. Our experience allows us to offer engineering and design solutions specific to Myanmar's changing needs. We are delighted that the partnership with MCEA allows us to continue to be part of the Myanmar growth story," Mr Teo said at the signing ceremony.
"The signing of the MOU between MCEA and Surbana Jurong represents an exciting chapter in the development of low cost and affordable housing in Myanmar. With our local knowledge and Surbana Jurong's international experience, we hope to realise our vision of helping more people own their homes in Myanmar," Mr Tha Htay said.                                                        
About Surbana Jurong Private Limited
Surbana Jurong Private Limited (SJ) is the largest Asia-based urban, industrial and infrastructure consulting firm. Leveraging technology and creativity, SJ provides one-stop consultancy solutions across the entire value chain of the urbanisation, industrialisation and infrastructure domains.
Headquartered in Singapore, the SJ Group has a global workforce of 13,000 employees in over 110 offices across 44 countries in Asia, Australia, the Middle East, Africa and the Americas, and an annual turnover of around S$1.3 billion.
SJ has a track record of over 50 years, and has built more than a million homes in Singapore, crafted master plans for more than 30 countries and developed over 50 industrial parks globally.
SJ's motto 'Building Cities, Shaping Lives' reflects its belief that development is more than just steel and concrete. SJ creates spaces and infrastructure services where people live, work and play, shaping cities into homes with sustainable jobs where communities and businesses can flourish.
About Myanmar Construction Entrepreneurs Association (MCEA)
The Myanmar Construction Entrepreneurs Association (MCEA) is the leading association representing developers and contractors in the construction sector in Myanmar. MCEA was established in 1996, and now has over 2,000 members and in the midst of setting up the chapter in 7 states and 7 regions. The organisation has been active in the construction development in Myanmar, in various projects such as SEZ, Port, Infrastructure, Highways, Industrial, Factories and public housing development.
Over the years, the MCEA, working alongside the government, has made tremendous contributions to the sector and country.MCEA has always supported the government's objectives, especially towards the development of infrastructure, low cost and affordable housing. On these projects, it has worked closely with various government ministries and offices to bring the projects to success.
For media enquiries, please contact:
Surbana Jurong
Jackie Yu Deputy Director, Group Communications
T: +65 6839-7326 M: +65 9688-4269 E: Jackie.YuWC@surbanajurong.com