Surbana Jurong, Phongsavanh Group and Mekong Group collaborate to support Laos' growth journey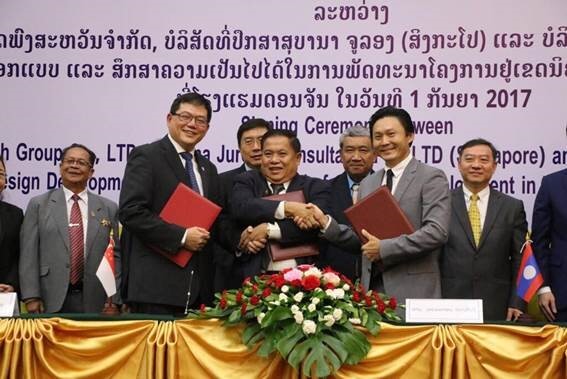 Vientiane, Laos, 1 September 2017 – In a move that will see Singapore companies share their expertise to support Lao PDR's growth, Singapore's Surbana Jurong Consultants Pte. Ltd., Mekong Group Pte. Ltd. and Lao's Phongsavanh Group today signed a Memorandum of Understanding (MOU) to jointly pursue business opportunities there.
Under this MOU, the partners aim to support the government's plan to transform land-locked Laos to a land-linked one through infrastructure projects and to attract investments through strategically planned townships and industrial growth clusters.
Phongsavanh Group is the master developer for an industrial zone development project covering 1300 ha in the city of Vientiane, capital of Laos. Based in Laos, the Group is well-established with over 30 years of experience in various businesses including banking, insurance, airlines and logistics. It is appointed and authorised by the government to drive the development of this industrial zone.
Surbana Jurong will provide its expertise in Urban Development Studies and Strategic Planning. For a start, it will develop the Concept Master Plans for Phongsavanh Group's Vientiane project, which it aims to complete by the end of the year.Surbana Jurong has successfully completed many internationally renowned industrial parks, townships and city planning, such as Singapore's Jurong Island Petrochemical Hub, Suzhou Industrial Park, Tianjin Eco-City, Vietnam-Singapore Industrial Park, Kigali City in Africa and Amaravati Capital City in India.
Mekong Group will provide its expertise in sourcing international talents and firms to support the project. It is advising Phongsavanh Group on starting new businesses and improving current processes.
The MOU signing ceremony was attended by Singapore's Ambassador to Laos, Mr Dominic Goh, as well as senior representatives of Laos' government agencies.
During Lao Prime Minister Thongloun Sisoulith's official visit to Singapore in May this year, Singapore Prime Minister Lee Hsien Loong said that Singapore hopes to be part of Laos' growth story. Today's MOU is testament that both countries are taking that step forward together.
"Laos is one of the fastest growing economies in the region and Surbana Jurong is excited to partner Laos on its growth journey. Beyond masterplanning, Surbana Jurong's design and engineering capabilities in various sectors also complement Laos' development priorities. We have over fifty years track record in township, industrial and infrastructure development and are pleased to contribute our expertise for Laos' development success," said Surbana Jurong's Group CEO Wong Heang Fine.
Wong added, "This collaboration with Phongsavanh Group and Mekong Group will allow us to leverage each partner's strengths as we explore other areas of cooperation, with the ultimate aim to help Laos and her people grow and prosper in a sustainable way."
Mekong Group's CEO, Michael Aw said, "Laos has remodelled itself into a safe, stable and peaceful nation with big ambitions. Lao PDR today is counted among the world's fastest growing economies and is set on a course of full regional and international integration.We are excited to start this journey together with Surbana Jurong and Phongsavanh Group, to be the advisor for this project with Phongsavanh Group as the master developer and Surbana Jurong as the master planner. The goal is to eventually build a township and industrial park which is strategically located near the high-speed rail station in Vientiane, a China's Belt Road Initiatives (BRI)."
He added, "Mekong Group's focus in Laos is to tap BRI opportunities. We will act fast to secure our first-mover advantage in Laos.We will collaborate with international and Singapore firms to form a consortium to engage these opportunities."
Mr Thedlakhone Douangsonthi, Vice-Chairman of Phongsavanh Group said, "As a leading local company, Phongsavanh Group, as always, will leverage our capacity and successful experiences to assist Laos to become developed as fast as possible. This new industrial zone will be an example of regional economic and industrial development and will be a pilot project to improve and develop the whole country. We will develop this project to international standards, by seeking experts and talents and by working with experienced and competitive companies. I believe this project will not only drive the development of local economies and industries, for example, to improve local infrastructure and living conditions including modernised plants, houses, apartments, schools, hotels, shopping malls, hospitals, sporting places and so on, but also provide opportunities for international investors to be successful businesses in Laos. I am confident that this project led by Phongsavanh Group will achieve a win-win result."
About Phongsavanh Group
Phongsavanh Group (PSVG) is a well-known leading group of companies in Lao PDR with successful pioneering enterprises in banking, insurance, petroleum trade and oil distribution, airlines, logistics, bulk supplies, food and beverage, timber, telecommunication supplies, etc. PSVG has played great and significant roles in the economic growth story of Lao PDR as well as various aspects of societal well-being of Lao PDR. "Giving and Sharing" is the core concept that constitutes the mandate of PSVG.The management team of PSVG believes this new collaboration reaffirms their commitment to further promote the development of the economy and support for the community in Lao PDR.
Phongsavanh Group is established by Prof. Dr. Od Phongsavanh who has been awarded a "National Developer Medal" by the central government of Lao PDR on account of many prominent contributions that he has done to develop the society and economy of Laos within several decades. As the founder of Phongsavanh Group, Prof. Dr. Od Phongsavanh always devotes himself to assist the government in developing native economies and assist Lao people in improving the quality of their lives. In view of many successes that Phongsavanh Group has got in the past, Phongsavanh Group is appointed and authorized by the government to drive the development of this industrial zone. By taking this good opportunity, Prof. Dr. Od Phongsavanh expects to get more competitive foreign companies to participate in this projects.
About Mekong Group Pte Ltd
Mekong Group is a Singapore based company with a focus in Lao PDR. It plays an advisory role and manages strategic partnerships for Lao PDR companies and state-owned enterprises. In Singapore, it is renowned for their 3T approach (Talent, Technology and Trust), which is also reflected in Mekong Group's core values. It believes that good management and transparency, being the Singapore branding will help to build Trust with its clients. It aims to bring the best in class practice & technology to improve its clients' business.
The Group strives to bring in the regional resources to tap on the growth story in Laos, be it:
Investors,
Joint Venture(JV) partners to start new business/partnership,
Consultants to improve a process/project and
Talents (people).
For media enquiries, please contact:
Surbana Jurong
Jackie Yu
Deputy Director, Group Communications
Tel: (+65) 6839 7326
Mobile: (+65) 9688 4269
Email: Jackie.YuWC@surbanajurong.com
Mekong Group
Steve Chng
Chief Operating Officer
Tel: (+65) 6636 0990
Mobile: (+65) 81810 4838
Email: Steve.Chng@mekonggroup.com.sg
About Surbana Jurong
Surbana Jurong Private Limited (SJ) is one of the largest Asia-based urban, industrial and infrastructure consulting firms. Leveraging technology and creativity, SJ provides one-stop consultancy solutions across the entire value chain of the urbanisation, industrialisation and infrastructure domains.
Headquartered in Singapore, the SJ Group has a global workforce of 13,000 employees in 113 offices across 44 countries in Asia, Australia, the Middle East, Africa and the Americas, and an annual turnover of around S$1.3 billion.
SJ has a track record of over 50 years, and has built more than a million homes in Singapore, crafted master plans for more than 30 countries and developed over 50 industrial parks globally.
SJ's motto 'Building Cities, Shaping Lives' reflects its belief that development is more than just steel and concrete. SJ creates spaces and infrastructure services where people live, work and play, shaping cities into homes with sustainable jobs where communities and businesses can flourish.
---

Download Article