Surbana Jurong's Wong helps stamp out Covid-19 bug with fire in the belly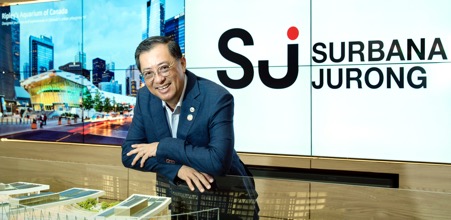 SINGAPORE (May 29): Urban infrastructure consultancy Surbana Jurong came under the limelight recently, following several social media posts querying its role in the setting up and running of Community Care Facilities (CCFs) for Covid-19 isolation, like at the Singapore Expo.
Most of the patients at Singapore Expo are foreign workers, who come under the purview of the Ministry of Manpower. After Surbana Jurong's role in setting up the facilities was publicised, links were soon drawn on social media between Josephine Teo, the manpower minister, and her husband, Teo Eng Cheong, one of the subsidiary CEOs at Surbana Jurong.
As those social media postings went viral, on May 19, Surbana Jurong was forced to strongly refute the unfounded allegations and misinformation in public, as did Singapore's Ministry of Health and the Ministry of National Development the following day. In an interview with The Edge Singapore after the company made its rebuttal, Wong Heang Fine, Surbana Jurong's group CEO, chose to focus more on how the company is getting the job done than anything else.
In dealing with the situation caused by Covid-19, Wong observed how buildings of today were designed with narrow purposes. Meanwhile, in his team at Surbana Jurong, Wong has experts in architecture, interior design, and engineering. He now wants to further meld their expertise to design and build for the "next normal".
"As a multidisciplinary consultancy, we aim to lead the shift from silo-ed, single utilitarian building and infrastructure design to multi-function, multi-dimensional design," he explains.
Even as Wong ponders the next step, Surbana Jurong has chalked up a record of handling some 7,000 projects at any given time. These range from designing and building critical urban infrastructure to setting up facilities like it did at Expo and to delivering essential maintenance services. "It's clear to see how our work has a real impact, from the design and delivery of critical projects, to providing facilities management and physical security for government offices and defence facilities," he says. To be sure, there are not that many companies like Surbana Jurong that can deliver what is required. As the number of Covid-19 cases increase and the risk of infection soars, alternative and sufficient space have to be arranged for the patients. Surbana Jurong deployed a 50-man team and within four weeks, coordinated the setting up of 8,000 bed spaces across the 10 halls at Singapore Expo, which, on normal days, is where large trade shows and exhibitions are held.
Wong acknowledges it is a challenge that is confounding governments across the world, as they try and curb the spread of the virus. Along the way, as frontline healthcare professionals gain renewed respect and recognition; the likes of Surbana Jurong are finding unexpected opportunities to showcase their expertise in these uncertain times.
In fact, 62-year-old Wong comes across as a proud father when he talks about the Singapore-headquartered consultancy. Up until the start of the pandemic, Surbana Jurong was actively advising projects all over the world — including locations many people have not heard of, much less ventured into.
One such project is located at Kigali, the capital city of Rwanda, where Surbana Jurong is doing a masterplan for a township. Spanning 730 sq km, which is slightly larger than Singapore, the project will urbanise the city of Kigali through optimal land-use techniques, explains Wong in an earlier interview before Covid-19 hit. This will give the city better housing and an environmentally-friendly transportation system such that it becomes a viable commercial hub for investments and employment in east-central Africa. "The team's ability to capture the needs of the city of Kigali — such as better accessibility in the form of roads, ports and airports got us the Merit Award for 'best planning project' in 2013, by the Singapore Institute of Planning," says Wong.
"Everything we do has a very big impact because, as our tagline goes, we shape lives through the cities we build and projects we embark on," he adds. He then goes on to highlight another project — the metro system in Northwest Sydney. "It was a very complex project," muses Wong, noting that the biggest challenge was in designing the route of the elevated sky train along a curved suspension bridge.
Even so, the team managed to complete the project successfully which was later recognised as the "global best rail project" for 2018, by Engineering News-Record, a weekly American publication on the construction sector.
Yet another project in Australia is based in New South Wales, where Surbana Jurong is supporting WaterNSW in the construction of two dam projects in the Dungowan and Mole Rivers, to improve water security and flood resistance.
Competitive edge
As an entity, Surbana Jurong was created in 2015, and Wong was its first CEO. Its name itself is the merger of the two storied Singapore entities into one: Surbana, the technical arm of the Housing Development Board or HDB and Jurong: the industrial team responsible for building factories and creating jobs under the Jurong Town Corporation.
"Around the world, people marvel at Singapore's unique experience in building public housing and industrial buildings. So, Surbana Jurong served to bring Singapore's expertise abroad," says Wong. And with a 2016 report by the United Nations showing that 60% of the global population will live in cities by 2030, the team had its work cut out.
With some 3,200 staff in 2015, Surbana Jurong now employs over 16,500 people across its 120 offices in 40 countries after growing through acquisitions and expansions. "At any point in time, we are working on about 7,000 projects across the different countries," says Wong. And this has translated into the group's revenue surging fourfold from $375 million just after the merger in 2015 to $1.7 billion in 2019.
According to Wong, there is no shortcut to success for Surbana Jurong. The company's rise was made possible solely on the back of the experience and the technical chops of its people, honed over the years, he insists.
Throughout his professional life, Wong, who trained as an engineer, has always worked in related fields. As a fresh graduate back in 1984 at the Singapore Economic Development Board, Wong was exposed to the different aspects of infrastructure development through his roles.
Thereafter, he undertook several roles in the infrastructure landscape. This included a stint as president and CEO of Sembcorp Engineers and Constructors (presently known as Sembawang Engineers and Constructors).
Prior to joining Surbana Jurong, Wong was CEO of CapitaLand Residential Singapore and CapitaLand GCC Holdings. There, he oversaw the development of luxury residential properties in Singapore and abroad. Along the way, Wong built up stronger ties with his colleagues in this sector as the president of the Real Estate Developers' Association of Singapore between 2011 and 2012.
Wong shares that his decision to join Surbana Jurong from CapitaLand was initially met with scepticism. "Many of my friends were shocked to hear of my move, especially because as a [former] developer, I was really up front in the real estate ecosystem," he reflects. Still, he saw the move as a positive one, as it would allow him to make a difference to the business. "I actually thought my background across the value chain would give me a competitive edge to build Surbana Jurong," he explains.
Passion wanted
Having helmed many companies across a 35-year career, Wong says the secret to being an effective leader is: Be passionate. "Everybody wants to be a CEO, but to be an effective one, you need to have the fire in your belly to find the motivation to get out of your comfort zone and vary the way you do things," he advises.
This is very necessary in the field he is in, says Wong, which he likens to cooking. "When you cook, you need not only the right ingredients but also the right temperature and ambience to bring out the flavour. Our role is just like that — we need to assemble the team with the right talent". And by "right talent", Wong says this includes experts in technology, design and sustainability who eventually come together with sustainable solutions. This was the very mindset the company had when it assembled the team operating the CCFs at the Singapore Expo.
"Every job, although in the same category, differs in nature, site, conditions and deliverables," he explains. "Managing this is a team effort with everyone on board leveraging on each other's expertise."
In the same vein, Wong's team must also manage the high standards and targets he sets. However, he is quick to add that he is a hands-on leader who works alongside them. "I am deeply involved in my team's discussions" he stresses, adding that he tries to meet his teams — particularly those abroad — "to set the tone and culture from the top".
Overseeing the many different projects is tough work, acknowledges Wong, who works 14 to 18 hours a day, starting as early as 6am. "I often joke that I come in early enough for my staff to boil water for their coffee," he chuckles.
Behind the glitz and glam associated with being a CEO is always hours of hard work, grit and tenacity, cautions Wong. To this end, he advises aspiring leaders to develop a strong set of core values.
The most important thing, he says, is experience. "A lot of times, people learn better on the job. Attending courses provides a template and approach to issues, but the experiences you accumulate will be more valuable than any course you attend," he shares.
"Develop a fire in your belly and don't be afraid to take on challenges. Because the experiences that come with these challenges is what one needs to solve issues on the ground," says Wong.
– Article from The Edge, 29 May 2020. Reproduced by permission of The Edge Publishing Pte Ltd.