One month with Safdie Architects in Boston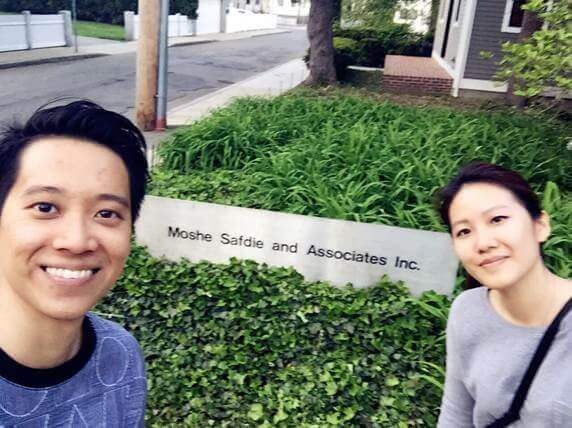 If you are an aspiring architect, you would very likely jump at this once in a lifetime opportunity. To undergo a one-month stint with the team who designed two of Singapore's iconic landmarks: the Marina Bay Sands Integrated Resort and the Jewel at Changi Airport. That was why there was no hesitation from Simon Chiang and Chong Wei Rong, when they said yes, to visit and undergo a one month attachment at Safdie Architects' head office in Boston earlier this year. Safdie Architects was the team behind the world-famous iconic design projects in Singapore, plus many more globally, such as the Habitat '67 in Montreal, the National Gallery of Canada in Ottawa, and the Raffles City mixed-use development in Chongqing, China.
We caught up with Simon, Architectural Associate at SJ's Architecture Studio 1, as he shares his experiences during his memorable stint with the Safdie team.
Q1. Why did you decide to go for this attachment at Boston?
Simon: I was fortunate and elated to be selected for this attachment! It was a great opportunity for me to interface with young designers in the Safdie office and work directly with them. Just to be exposed to a different style of studio and work processes, in an atelier setting, was definitely an opportunity of a lifetime.
Q2. Was there a specific project that you worked on with the Safdie team?
Simon: While I was there, I was working full time on a large-scale transportation hub, in an international design competition. I was one of the designers assisting the team to create graphics, drawings and models for the presentations. The Safdie team members were very open on sharing with us their ideas and design strategies.
Q3. What was it like working with the Safdie team? Any interesting observations to share?
Simon: The team that I was working with was a rather large team of about 12. Under the direction of Moshe Safdie himself and two of his long-term principals, we were engaged in numerous studies and sketches to test possible designs for the competition. What impressed me was the sheer size of the team and the resources they had dedicated to create the graphics and presentation material. More importantly, Moshe himself was always very hands on, making sure that every drawing and detail was personally signed off before it could be presented to clients. That impressed me, as he maintains a large amount of creative control, despite his busy schedule.
Q4. What have you gained from this attachment?
Simon: It was an eye-opener to see how the design practice is run at Safdie Architects. Being a world-renowned firm, the dedication to quality and commitment to the craft of architecture is also inherent to the way Safdie Architects is run. As an architect, it was encouraging to see the premium for a brand name firm translated into time and energy spent on developing good design. It is something that I hope to see happening more back in the industry in Singapore and Asia. Given the ease of us fitting in with the team there, I can safely say, in terms of talent and passion, us architects in Singapore are probably on par with our counterparts in USA.