Lead the industry by going green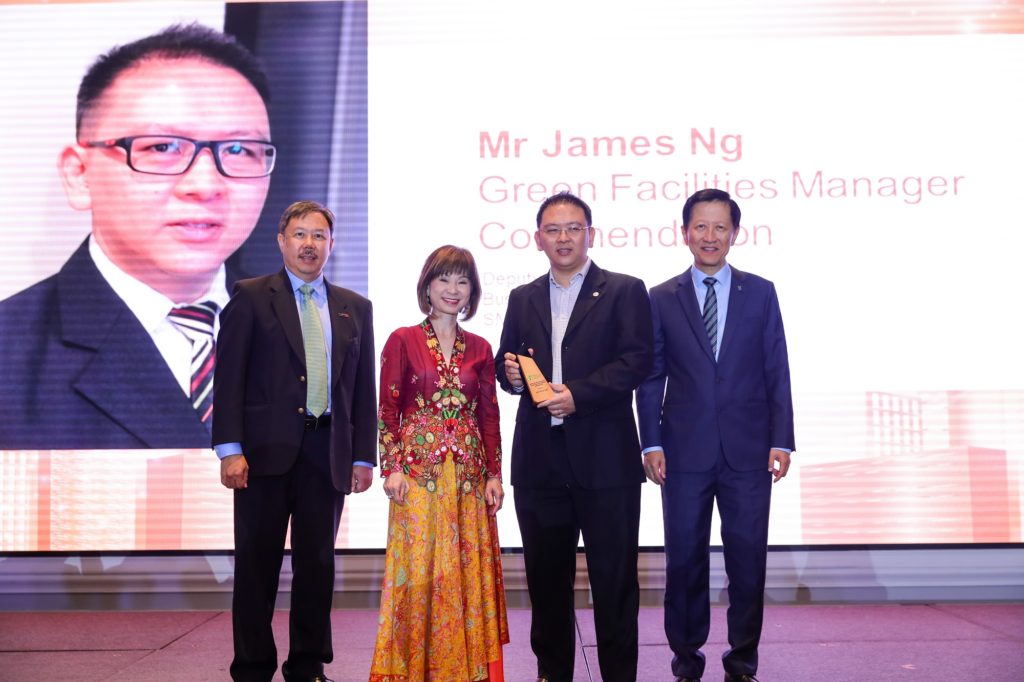 James with his trophy, at the SGBC-BCA Sustainability Leadership Awards 2019. He is beside Dr Amy Khor, Senior Minister of State for the Environment and Water Resources & Health. CEO BCA Hugh Lim is on her right, while Dr Ho Ngok Yong of the SCBC Board is on James' left
The Singapore Green Building Council (SGBC) has named James Ng, Deputy Director, Business Strategy & Development of SMM Pte Ltd – the facilities management arm of the Surbana Jurong group – as an outstanding green building professionals.
He is one of the three recipients of the Green Facilities Manager Commendation award and a winner in the SGBC-BCA Sustainability Leadership Awards 2019. Held on 5 September, the awards are jointly conferred by the Singapore Green Building Council (SGBC) and the Building and Construction Authority (BCA).
A certified Green Mark Facilities Manager (GMFM) with 20 years' experience in facilities management, James has helped several organisations achieve BCA Green Mark awards, such as BP Singapore, BHP Billiton and Keppel's properties.
James said he feels honoured and privileged to receive the award. "It is heartening to know that the adoption of green and sustainable workplace practices has evolved rapidly with more organisations realising the importance to embrace environmentally friendly work practices in recent years. I believe we can certainly do more to keep up this momentum."