Environmental design consultancy Atelier Ten joins the Surbana Jurong Group
Surbana Jurong Group is adding Atelier Ten to its family of specialist consulting firms as the Group increases its focus on sustainability
Strategic move completes the Group's portfolio of services for clients who want to create a sustainable future
Joining the Group will provide Atelier Ten with greater scale, resources and capabilities to accelerate the impact of sustainable design
This creates greater opportunities not only for Atelier Ten and Surbana Jurong Group but more broadly, for clients and the built environment globally.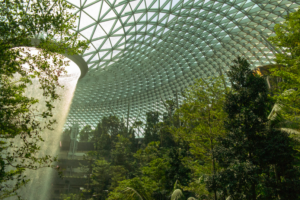 Jewel Changi Airport, a project that Atelier Ten and Surbana Jurong collaborated on
Thursday 12 November 2020 – Surbana Jurong Group, a global consultancy powerhouse in urban and infrastructure development and Atelier Ten, a global award-winning environmental design consultancy specialising in sustainable and innovative design solutions, today announced that Atelier Ten will join the Group as it increases its focus on sustainability. In joining forces, Surbana Jurong Group and Atelier Ten will deepen their expertise and strengthen their commitment to championing sustainability and developing climate change solutions.
Since its formation five years ago, Singapore-headquartered Surbana Jurong Group has grown its collection of expertise in architecture, design, engineering, facilities management and security services by investing in companies with deep expertise and reach in new markets.
Atelier Ten, headquartered in London, will deepen Surbana Jurong Group's expertise in sustainable solutions, dedicated to helping clients who want to create a sustainable future. This presents greater opportunities for Atelier Ten, Surbana Jurong Group and more broadly, clients and the built environment globally.
Now celebrating its 30th anniversary, Atelier Ten has grown from a small London studio to a global thought leader in environmental design, with 300 employees split across 11 offices worldwide including the USA, UK, Australia and Singapore. Notable projects include Gardens by the Bay in Singapore where the environmental design embeds both building scale and city scale circular economy principles; Royal National Theatre in London,  replacing the central heating and cooling plant with absorption cooling system and ground source heat pumps to achieve carbon savings of 30%; Comcast Centre in Philadelphia that redefines sustainability for high-rise buildings through careful energy and systems design, indoor environmental quality, water consumption and material selection; and Google's headquarters in London,  designed to achieve a truly smart building that is open, dynamic, flexible and at the forefront of technology. Teaming up with the National University of Singapore, Atelier Ten has also been appointed by Public Utilities Board to carry out environmental and microclimate studies and help determine the feasibility of harvesting solar energy through floating solar systems. Atelier Ten is also known for designing the spiky shading system that gives The Esplanade in Singapore its durian-like appearance.
Atelier Ten's relationship with Surbana Jurong spans over a decade with successful collaborations in Singapore including Jewel Changi Airport, one of the world's largest conditioned gardens that successfully balances the competing demands of abundant heart and light needed for plants, and the ecologically sustainable Mandai rejuvenation project.
Atelier Ten will join the Surbana Jurong Group as a distinct member company, the Group's ninth member company. The Group is committed to preserving and enhancing the goodwill, attributes and culture that have made Atelier Ten successful. Atelier Ten will retain its identity and brand values and continue to leverage its leadership team and its people to expand globally.
This mutually beneficial opportunity will provide better access to and knowledge sharing across markets, strengthening Surbana Jurong's presence in the US and European markets and Atelier Ten's involvement in Asia. The integration will present more multidisciplinary, collaborative projects that provide employees with exposure to new work and opportunities to learn, develop and grow.
Patrick Bellew, Principal, Atelier Ten, commented: "We see this union with Surbana Jurong Group as a fantastic opportunity to build upon the successful growth we have enjoyed in the past 30 years. Working with Surbana Jurong and other members of the Group we can extend our influence and mission to be a global force for good in the drive towards a more sustainable world. The synergies and opportunities that joining this group presents for the team here at Atelier Ten, and for our clients and collaborators are enormous."
Wong Heang Fine, Surbana Jurong Group CEO, commented: "Today's announcement demonstrates Surbana Jurong's commitment to help clients design high-performance, sustainable buildings and smart infrastructures that conserve energy and resources. With every project, we are spurred by the challenge of doing more with less. Together with Atelier Ten, we can unlock even greater value from our sustainability solutions.
"We continue to invest in Surbana Jurong Group's capabilities and long-term success. This transformative expansion will ensure we play an integral role in creating sustainable built environments, further increase the Group's relevance and enable us to forge a better future for the world."
– ends –
Watch Together for Tomorrow, our video announcement about the integration that aims to create a sustainable future.
For further information on Surbana Jurong Group, please contact Karen Yew and Clarrie Liew, Group Communications, Surbana Jurong:
karen.yewwl@surbanajurong.com
clarrie.liewqh@surbanajurong.com
For further information on Atelier Ten, please contact Carolyn Larkin and Dominique Broomfield at Caro Communications:
carolyn@carocommunications.com
dominique@carocommunications.com
About Surbana Jurong Group
Surbana Jurong Group is a global urban, infrastructure and managed services consulting firm, with over 70 years of track record in successful project delivery. Headquartered in Singapore, the group has a global talent pool of over 16,500 across Surbana Jurong and our member companies AETOS, B+H, KTP, Prostruct, RBG, SAA, Sino-Sun and SMEC, based in more than 120 offices in over 40 countries. They include architects, designers, planners, engineers and other specialists driven by progressive thinking and creative ideas to help shape a better future.
Our experts deliver sustainable solutions that cover the entire project life cycle from planning and design, through to delivery and management, as well as decommissioning and closure. We provide a full suite of multidisciplinary consultancy services across a diverse range of sectors that includes aviation, healthcare, hospitality, transport, water and environment as well as energy and resources.
Surbana Jurong has built more than a million homes in Singapore, created master plans in more than 30 countries and developed over 100 industrial parks globally. Our tag line "Building Cities, Shaping Lives" expresses how every project or undertaking is, for the Group, an opportunity to fulfil aspirations and enrich lives. By designing and delivering quality housing, workspaces, roads, rail, hydropower, dams, underground and coastal protections and other critical infrastructure needed by our clients, we are redefining cities and transforming them into sustainable and liveable spaces where communities and businesses, present and future, can thrive.
For more information, please visit: www.surbanajurong.com.
About Atelier Ten
International firm Atelier Ten is an environmental design, building services and lighting design consultancy renowned for their award-winning work in designing high performance buildings. Founded on a commitment to inspirational, sustainable design, the firm has built up a strong reputation over the last 30 years as an international leader in its field and now has 300 employees across eleven offices worldwide.
Projects include the new headquarters building for Google in London with BIG and Heatherwick Studio, the development of Chelsea Barracks. the award-winning National Theatre in London with Haworth Tompkins, the UK Pavilion for Expo 2020 Dubai with Es Devlin, the Illuminated River with the Illuminated River Foundation and artist Leo Villereal, Zaha Hadid's Bee'ah HQ in Sharjah, Snøhetta's SFMoMA, UNStudio and Cox Architecture's Southbank by Beulah in Melbourne, WilkinsonEyre's Gardens by the Bay, and Jewel Changi Airport in collaboration with Safdie Architects.