Surbana Jurong donates blood bank refrigerator to Zambia hospital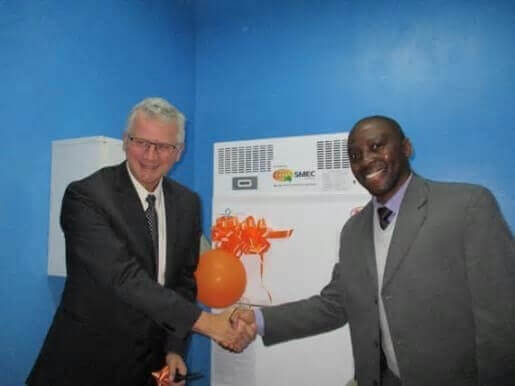 As part of Surbana Jurong Group's Corporate Social Responsibility programme, The SMEC Foundation has donated a blood bank refrigerator to Beit Cure Hospital in Lusaka, Zambia.
The refrigerator, which can keep blood at optimum temperatures for two weeks even without electricity, is the first the hospital has owned, since its inception ten years ago.
During the handover ceremony, Manengu Musambo, SMEC's Country Manager-Zambia, said, "At SMEC, we appreciate the value of life and have partnered with Beit Cure Hospital to enhance service delivery and help save lives of the vulnerable children treated at the hospital."
Mr. Steven Hitt, Beit Cure Hospital Executive Director, expressed great delight and gratitude for the donation, "Having the refrigerator will help maintain a great supply of fresh blood urgently required in most of the hospital's surgeries."
Beit Cure Hospital is a paediatric teaching hospital, specialising in the treatment and care of children living with physical disabilities. It is one of the few hospitals in Zambia to adequately address the surgical needs of children with disabilities.