Chaly Mah appointed Chairman of Surbana Jurong Group
Singapore, 28 December 2020 – Surbana Jurong Group today announced the appointment of Mr Chaly MAH Chee Kheong as its Chairman, with effect from 1 January 2021. Mr Mah succeeds Mr LIEW Mun Leong, Surbana Jurong's founding Chairman, who retired in September 2020. The appointment follows the Board's approval of a recommendation by the company's Executive Resource & Compensation Committee.
Mr Mah will bring extensive board and leadership experience to the role of Chairman of the Surbana Jurong Group. Mr TAN Gee Paw, one of the Board's longest serving directors, commented: "The Board was pleased that Chaly agreed to join us and serve as Chairman, because we see his experience and vision as critical to continuing the journey that Surbana Jurong started under Liew Mun Leong's leadership. Chaly's leadership credentials and his desire to see Surbana Jurong continue its growth journey, delivering sustainable social and economic impact for our
clients, appeal to us all."
Mr Mah said of his appointment as Chairman, Surbana Jurong Group: "I am deeply honoured and humbled to be entrusted with this responsibility. Five years after its formation, Surbana Jurong Group continues to fulfil its essential purpose of building cities and shaping lives. It has grown from strength to strength, expanding its influence and presence globally.
"For this, I would like to thank Mun Leong who, with the SJ leadership team, was the driving force behind Surbana Jurong's growth strategy. I look forward to working with the board and management to leverage on this strong platform to advance the Group into a leading global player."
Mr WONG Heang Fine, Group Chief Executive Officer, Surbana Jurong Group said: "On behalf of the leadership team and all colleagues, I warmly welcome Chaly and look forward to working with him to take Surbana Jurong to its next phase of growth. In the face of unprecedented challenge, the over 16,000 colleagues in the Group have continued to deliver on our commitments to create value for all our stakeholders. Chaly's deep experience and insights will benefit us greatly as we continue to grow our portfolio of specialty consulting skills and expand our capabilities for the built environment, anchored on sustainability and technology for the future."
Please see annexe for more about Mr Chaly MAH Chee Kheong.
About Surbana Jurong Group
Surbana Jurong Group is a global urban, infrastructure and managed services consulting firm, with over 70 years of track record in successful project delivery. Headquartered in Singapore, the group has a global talent pool of over 16,000 across Surbana Jurong and our member companies AETOS, Atelier Ten, B+H, KTP, Prostruct, RBG, SAA, Sino-Sun and SMEC, based in more than 120 offices in over 40 countries. They include architects, designers, planners, engineers and other specialists driven by progressive thinking and creative ideas to shape a better future.
Our technical experts deliver sustainable solutions that cover the entire project life cycle from planning and design, through to delivery and management, as well as decommissioning and closure. We provide a full suite of multidisciplinary consultancy services across a diverse range of sectors including aviation, healthcare, hospitality, transport, energy, water and the environment.
Surbana Jurong has built more than a million homes in Singapore, created master plans in more than 30 countries and developed over 100 industrial parks globally. Our tag line "Building Cities, Shaping Lives" expresses how every project or undertaking is, for the Group, an opportunity to fulfil aspirations and enrich lives. By designing and delivering quality housing, work spaces, roads, rail, hydropower, dams, underground and coastal protections and other critical infrastructure needed by our clients, we are redefining cities and transforming them into sustainable and liveable spaces where communities and businesses, present and future, can thrive.
For more information, please visit: www.surbanajurong.com.
Media contact
Karen Yew
Group Chief Communications and Branding Officer
Surbana Jurong Group
Email: karen.yewwl@surbanajurong.com
ANNEXE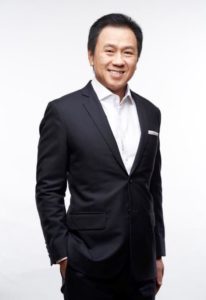 Mr Chaly Mah Chee Kheong
Mr Mah, 64, is Chairman of Singapore Tourism Board, the Singapore Accountancy Commission and NetLink NBN. He is a member of the Board of Trustees of SG Eco Fund, National University of Singapore (NUS) and Chairman of the NUS Business School Accounting Advisory Board. He also serves on the boards of the Singapore Economic Development Board, Monetary Authority of Singapore, Flipkart Private Ltd and CapitaLand Limited.
Mr Mah served on the board of Singapore Land Authority from 2007 to 2014 and was its Chairman between 2010 and 2014. He was Chairman of the Singapore International Chamber of Commerce between 2015 and 2017, and an external member of the Audit Committee of the Asian Infrastructure Investment Bank from 2017 to 2020.
In 2016, Mr Mah retired as CEO of Deloitte Southeast Asia and Chairman of Deloitte Singapore. He was with Deloitte for over 38 years, including five years in its Melbourne office. During his tenure, Mr Mah led teams serving multinational and local companies across a wide spectrum of industries, specialising in financial services, telecommunications & technology, real estate, private equity and manufacturing and advising companies in mergers and acquisitions and corporate finance. Mr Mah was also the CEO of Deloitte Asia Pacific and served as the Vice-Chair of Deloitte's Global Board of Directors.
Mr Mah is the Singapore Non-Resident Ambassador to Papua New Guinea. In 2014, he was awarded the Public Service Medal (PBM) for his contributions to public service.
– ends