A landmark eco-park for Hainan Province in China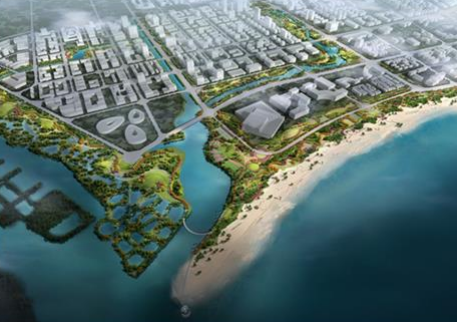 The landscape concept masterplan for three parks at Yazhou Bay in Hainan province of China comprises a coastal park, a wetland park and a riverfront park.
Surbana Jurong's Landscape Architecture team has won a landmark landscape concept masterplan project for Yazhou Bay in Sanya in Hainan province of China. We won a water related landscape masterplan competition, coming ahead of five established names, including Turenscape (a well-known landscape architectural firm in China) and Atkins Global (a global design company).
The project site is located at the new district of the deep-sea science and technology city in Yazhou Bay. The design of this waterfront eco-park covers 135 hectares and includes three parts: a Coastal Belt Park, an Ecological Wetland Park and a Resilient Riverfront Park. The design calls for a coastal windbreak forest, wetland water management and smart city water management systems. An important requirement is to prevent natural disasters such as seawater backwater, flooding, typhoons and sand erosion. While people-oriented, the design is also sensitive to the biodiversity of the area.
This landmark project is for two clients: the Sanya Yazhou Bay Technology Administration (Local Government) and the China Merchants Group (Sanya Deep Sea Technology City Development).
"This win with three major parks is a fantastic recognition of SJ Landscape architecture capabilities on environmental landscape masterplan even abroad in China," said Oliver Ng, Landscape Director of SJ Architecture (Landscape team) of this new milestone. "We believe that the role of the landscape architect will become greater, when we emphasise the importance of green sustainable movement and building a resilient environment – amidst all the natural calamities and disasters that plague the habitat."