Surbana Jurong Partners JTC on Digitalisation, Automation and Sustainability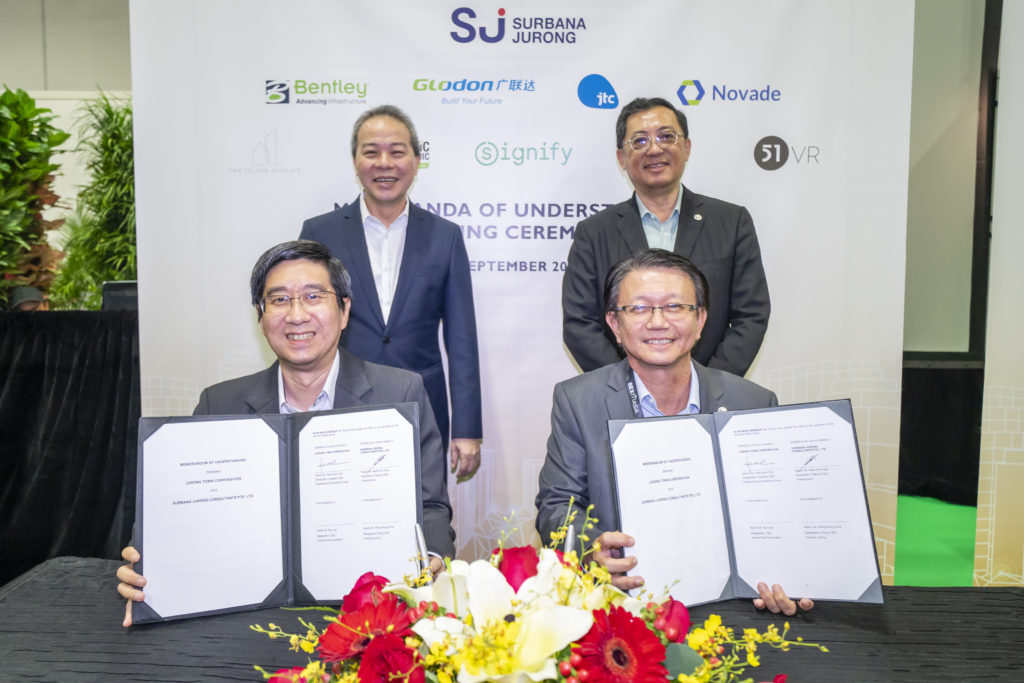 Singapore, 5 September 2019 –  To drive the transformation of Singapore's built environment sector, Surbana Jurong (SJ), one of the largest Asia-based urban and infrastructure consulting firms, and JTC Corporation (JTC), Singapore's lead industrial masterplanner and developer, have signed a Memorandum of Understanding (MOU) today to collaborate and share research and development resources in the areas of digitalisation, productivity and automation, sustainability and resilience. The MOU aims to combine JTC's project management and engineering capabilities with Surbana Jurong's urban and infrastructure consulting expertise to develop practical and scalable solutions.
Subsequently, these solutions will be test-bedded or piloted by the two organisations at their respective estates, buildings, or projects. The solutions can potentially be trialed or rolled out by other collaborators in the built environment sector including international players.
Transforming through Digitalisation
One of the key focus areas of the MOU is looking at implementing digital technologies to enhance productivity and automation across the built environment value-chain. The two organisations will look at building capabilities in Integrated Digital Delivery (IDD). IDD refers to the use of digital technologies to integrate information and processes among the various stakeholders of the project, from designers, builders to facilities managers. This improves collaboration and increases efficiency while maintaining quality and safety.
To digitalise information gathering, software applications and drones with Artificial Intelligence (AI) capabilities can be utilised. A challenge is handling and analysing large amount of information in the areas of progress monitoring, resource management, quality and safety. Thus, one of the desired outcomes of the collaboration is to co-develop digital solutions that will automate data collection and analytics in these areas for building, infrastructure and reclamation projects. This will reduce the time spent by engineers for on-site manual monitoring while empowering project managers to make more informed decisions. They can further increase their productivity and reduce the margin of error by adopting other technologies such as computer-aided machines, robotics and new prefabrication solutions. In addition, JTC and SJ will also explore new advancements in the field of Building Information Modelling (BIM) and Internet-of-Things (IoT) to improve project delivery in the aspects of resource, time, quality and cost.
Sustainability and Resilience
As the need to mitigate the effects of climate change gain urgency, sustainability in the built environment has become increasingly important for Singapore and the rest of the world. In line with this, JTC and SJ will jointly explore new alternative materials for building, infrastructure and reclamation. The aim is to reduce consumption of conventional construction materials in order to address potential shortages and build resilience into the supply chain. Both parties will also look into technologies that can improve energy and resource efficiency to achieve lower carbon footprint, improve long-term durability and reduce the life-cycle costs in buildings and infrastructure.
Mr Wong Heang Fine, Group Chief Executive Officer, Surbana Jurong said, "We are happy to collaborate with JTC on these key focus areas which form the backbone of the construction industry transformation roadmap. When the industry benefits, we benefit. As a consultancy firm operating around the world, Surbana Jurong's unique value proposition is in our Asian heritage and our ability to stay ahead in offering the latest solutions to our clients. This latest partnership with JTC will enable us to continue to advance in our research and innovation journey for the benefit of our clients and the industry."
Mr Ng Lang, Chief Executive Officer, JTC said, "JTC aims to work with forward-looking partners such as Surbana Jurong to transform Singapore's built environment sector through digitalisation. We hope that through this collaboration, we are able to bring together our expertise in our respective fields to advance the adoption and development of new technological solutions that will improve the productivity, sustainability and resilience of the sector."
-End-
About Surbana Jurong
Surbana Jurong is one of the largest Asia-based urban, infrastructure and management services consulting firms, with close to 70 years of track record in successful project delivery. Headquartered in Singapore, the Surbana Jurong Group of companies comprises SMEC and Robert Bird Group in Australia, Sino Sun in China, AETOS, KTP and SAA in Singapore and B+H in Canada.
Our global talent pool of over 16,000 employees from more than 120 offices in over 40 countries worldwide, include architects, designers, planners, engineers and other specialists, who are driven by progressive thinking and creative ideas to help shape a better future.
Our technical experts deliver best-in-class solutions that cover the entire project life cycle from planning and design, through to delivery and management, and even decommissioning and closure. We provide a full suite of consultancy services across a diverse range of sectors such as aviation, healthcare, hospitality, transport, water and environment, energy and resources.
With a wealth of experience, we have built more than a million homes in Singapore, crafted master plans for more than 30 countries and developed over 100 industrial parks globally, building homes and designing cities that are socially, economically and environmentally sustainable, empowering communities to thrive.
For more information, please visit https://prostruct.com.sg
About JTC
Set up in 1968, JTC is the lead government agency responsible for the planning and development of industrial infrastructure to support and catalyse the growth of industries and enterprises in Singapore. Landmark projects by JTC include the Jurong Industrial Estate; the Jurong Island for energy and chemical industries; business and specialised parks such as the International and Changi Business Parks, Seletar Aerospace Park and Tuas Biomedical Park; a work-live-play-&-learn development called one-north; next generation districts including Jurong Innovation District and the Punggol Digital District, as well as the Jurong Rock Caverns, Southeast Asia's first commercial underground storage facility for liquid hydrocarbons. JTC also develops innovative space such as the JTC Surface Engineering Hub, JTC MedTech Hub, JTC Food Hub @ Senoko, and TimMac @ Kranji which incorporate innovative features and shared infrastructure and services to enable industrialists to start their operations quickly and enhance productivity.
For more information on JTC and its products and services, please visit www.jtc.gov.sg.
For media enquiries, please kindly contact:
Surbana Jurong
Eva Ho
Group Chief Communications and Branding Officer
Group Communications and Branding
T: +65 6248 1830
M: +65 9617 6234
E: eva.hohw@surbanajurong.com
JTC
Vivian Tan
Senior Manager Communications Division
T: +65 6883 3056
M: +65 9233 3667
E: vivian_tan@jtc.gov.sg