Surbana Jurong and Ten Partners Collaborate to Improve Productivity and Drive Sustainable Practices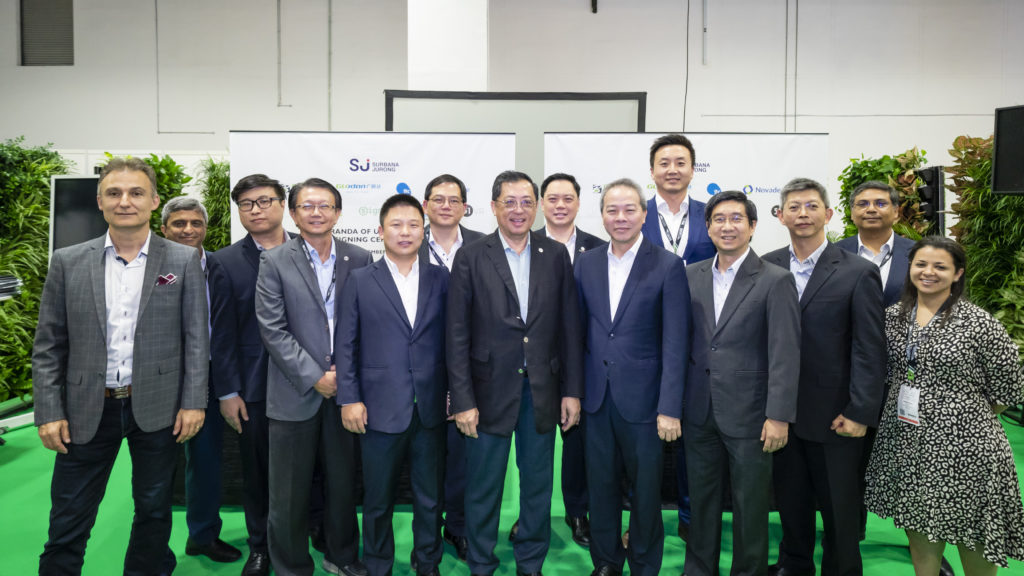 From Left to Right: Novade Founder and CEO Mr Denis Branthonne, Signify CEO Mr Mahesh Lyer, VR Collab CEO Mr Tee Jia Hen, Surbana Jurong DCEO Mr Seah Kim Huah, Glodon Managing/Country Director Mr Andy Zhang, Surbana Jurong CEO Mr Yeo Choon Chong, Surbana Jurong Group GCEO Mr Wong Heang Fine, Surbana Jurong Senior Director Mr Eugene Seah, JTC CEO Mr Ng Lang, 51VR Director of Global Sales, Mr Michael Tang, JTC ACEO Mr Heah Soon Poh, Republic Polytechnic Deputy Principal Dr Michael Koh, Bentley Systems VP Mr Kaushik Chakraborty and One To One Director Marian Rafael
Largest number of MOUs inked by company in one day
Singapore, 5 September 2019 – Surbana Jurong, one of the largest Asia-based urban, infrastructure and management services consulting firms, today signed a record ten Memoranda of Understanding (MOUs) with industry partners in one day, to collaborate on initiatives which will help improve productivity, drive sustainable practices in the built environment industry, and support overseas expansion of home-grown solutions.
The MOUs focus on areas such as digitalisation, automation and sustainability related solutions. They were inked in conjunction with the International Built Environment Week 2019 organised by the Building and Construction Authority of Singapore, demonstrating the commitment which Surbana Jurong and its ten partners have in contributing to the growth and development of the built environment industry in Singapore and the region.
Leveraging Technology to Improve Productivity
For many years, Surbana Jurong has focused on productivity improvements by leveraging on technology and innovations, including the digitalisation of its tools and solutions.  It will significantly up the ante on this front with the MOUs signed today by tapping on the unique strengths and complementary capabilities of partners in the areas of Building Information Modelling (BIM), cost estimation technology, robotics, compliance, smart cities and smart lighting. Surbana Jurong's partners on this front are JTC Corporation (please see separate media release on MOU with JTC), Glodon, VR Collab, Bentley Systems, 51VR, Novade, One To One Display and Signify.  Together, these organisations and Surbana Jurong seek to expand the use of technology to catalyse productivity for the architecture, engineering and construction industry.
With Glodon, Surbana Jurong will expand the adoption of "5D BIM" to support the effective quantification of construction materials. "5D BIM" is a model-based cost estimation technology system which allows better visibility of the quantities and associated costs at the building design stage. This will enable designers and architects to better understand how their designs will affect the costs of the whole project at the early stage, and also allows the estimator to explore new ways of providing cost-effective and efficient designs and performance.
Facilitating information mobility is crucial for the built environment, so that different parties involved in a construction or development project are aligned to a common set of requirements. To strengthen this area, VR Collab and Surbana Jurong will co-develop a transparent, end-to-end automated solution which enables all stakeholders involved in the project life-cycle to view and update information in real time.  Bentley Systems will also work with Surbana Jurong to develop onsite construction solutions which can be embedded into current processes to boost productivity.
Other technological solutions to be initiated by the MOUs focus more on project applications, such as in the area of planning of smart cities using virtual reality (51VR), audit compliance (Novade), floor plan projection (One To One Display) and connected LED lighting for data access and insights (Signify).
Driving Sustainable Practices
Surbana Jurong has been championing sustainable built practices in the industry since 2016. Under the MOU between Surbana Jurong and Republic Polytechnic, the two organisations will undertake efforts to facilitate knowledge sharing and conduct joint research pertaining to the areas of sustainability and resiliency, aquaculture and agriculture. Joint projects in aquaculture and agriculture have been identified and will be worked on in the following months.  Environmentally friendly new materials, as well energy and resource efficient solutions are areas which Surbana Jurong is looking into with JTC, under the MOU the two have signed.
Internationalisation of Singapore solutions
In support of the implementation of the Construction Industry Transformation Map,  Surbana Jurong, a leader in the development of affordable housing and townships in Singapore, will be collaborating with Shui On Joint Venture in Hong Kong to facilitate the expansion of prefabricated prefinished volumetric construction (PPVC) products and services into overseas markets.  The two will also conduct research and development into innovative solutions in PPVC. The MOU signing was witnessed by Second Minister for National Development Mr Desmond Lee.
Mr Wong Heang Fine, Group Chief Executive Officer, Surbana Jurong said, "Surbana Jurong has remained steadfast in our commitment to transforming the built environment industry.  As a company, we have strived to stay ahead of the game by constantly delivering better and stronger solutions to benefit our clients and the market.  The ten MOUs which we have inked today demonstrate our dedicated focus in working with industry partners to seek improvements and innovations.  What we bring to the table is our strong track record, deep and diverse competencies, and longstanding market knowledge of the urban, infrastructure and management services sectors.  We thank our ten partners for joining us on this journey to excellence."
-End-
About Surbana Jurong
Surbana Jurong is one of the largest Asia-based urban, infrastructure and management services consulting firms, with close to 70 years of track record in successful project delivery. Headquartered in Singapore, the Surbana Jurong Group of companies comprises SMEC and Robert Bird Group in Australia, Sino Sun in China, AETOS, KTP and SAA in Singapore and B+H in Canada.
Our global talent pool of over 16,000 employees from more than 120 offices in over 40 countries worldwide, include architects, designers, planners, engineers and other specialists, who are driven by progressive thinking and creative ideas to help shape a better future.
Our technical experts deliver best-in-class solutions that cover the entire project life cycle from planning and design, through to delivery and management, and even decommissioning and closure. We provide a full suite of consultancy services across a diverse range of sectors such as aviation, healthcare, hospitality, transport, water and environment, energy and resources.
With a wealth of experience, we have built more than a million homes in Singapore, crafted master plans for more than 30 countries and developed over 100 industrial parks globally, building homes and designing cities that are socially, economically and environmentally sustainable, empowering communities to thrive.
For more information, please visit https://prostruct.com.sg
About JTC
Set up in 1968, JTC is the lead government agency responsible for the planning and development of industrial infrastructure to support and catalyse the growth of industries and enterprises in Singapore. Landmark projects by JTC include the Jurong Industrial Estate; the Jurong Island for energy and chemical industries; business and specialised parks such as the International and Changi Business Parks, Seletar Aerospace Park and Tuas Biomedical Park; a work-live-play-&-learn development called one-north; next generation districts including Jurong Innovation District and the Punggol Digital District, as well as the Jurong Rock Caverns, Southeast Asia's first commercial underground storage facility for liquid hydrocarbons. JTC also develops innovative space such as the JTC Surface Engineering Hub, JTC MedTech Hub, JTC Food Hub @ Senoko, and TimMac @ Kranji which incorporate innovative features and shared infrastructure and services to enable industrialists to start their operations quickly and enhance productivity.
For more information on JTC and its products and services, please visit www.jtc.gov.sg.
About Glodon
Glodon Company Limited was founded in 1998 in China and listed on the Shenzhen SME Board in May 2010. Glodon has around 4,500 employees at more than 50 branches in China and 15 offices in the international market such as US, Finland, UK, UAE, Sweden, Singapore, Hong Kong, Vietnam and Malaysia, Taiwan, India, Indonesia, Philippines, and Thailand. Glodon focuses on the entire lifecycle of construction projects and delivers first-class products and services to promote modernization and digitalization of the AEC industry.
Cubicost is a new brand of Glodon in the international market. Cubicost BIM suite is comprised of four individual BIM-based software products (TAS, TRB, TME, TBQ) that are focused on different needs of Quantity Surveying and 5D BIM Cost Management business. All these four products together virtually cover all general requirements in the engineering cost estimation and management business. Moreover, the BIM model and related data can be easily transferred between four products, bringing you the most professional, efficient and accurate BIM cost estimation and management experience.
As a BIM solution provider for cost estimation which is different from traditional methods, Cubicost enables data and model sharing among other popular software from upstream to downstream in the industry. Explore more from us, please visit https://cubicost.com/
About VR Collab
VRcollab is a next generation VDC software solution for the construction industry which provides BIM interrogation, Stakeholder collaboration, Virtual Reality in a concise and effective tool. Export your BIM directly from Revit, Archicad, Navisworks, Sketchup and begin your coordination meetings in an instant.
About Bentley Systems
Bentley Systems is the leading global provider of software solutions to engineers, architects, geospatial professionals, constructors, and owner-operators for the design, construction, and operations of infrastructure. Bentley's MicroStation-based engineering and BIM applications, and its digital twin cloud services, advance the project delivery (ProjectWise) and the asset performance (AssetWise) of transportation and other public works, utilities, industrial and resources plants, and commercial and institutional facilities.
Bentley Systems employs more than 3,600 colleagues, generates annual revenues of $700 million in 170 countries, and has invested more than $1 billion in research, development, and acquisitions since 2014. From inception in 1984, the company has remained majority-owned by its five founding Bentley brothers. Bentley shares transact by invitation on the NASDAQ Private Market. www.bentley.com
About 51 VR
51VR, a VR+AI high-technology company, founded in early 2015, has been focusing on creating a virtual "51World" — a real, complete and sustainable virtual world, which makes the real world more efficient, safer and better. It now has three major product lines—51Sim-One, 51City OS and a series of real-estate digitalization products, which are in the fields of automated driving, smart city, and real estate respectively. 51VR occupies the biggest market share in the segmentation of these fields in China.
About Novade
Founded in 2014, Novade is a Singapore-based software company that drives the digital transformation of the building and construction industry. Trusted by major contractors, real estate developers, and engineering service providers, Novade's platform is utilised to empower users in the field and automate processes on-site. The data captured provides valuable insights to streamline operations. The platform includes modules to manage Quality, Safety, Activity, Workforce, Logistics and Maintenance on site.
With the Novade enterprise platform, site processes are made digital with mobile applications. The platform can be deployed during the entire building and infrastructure lifecycle. All Novade modules are built on this common platform, ​enabling access and synchronisation on all devices. Secure, scalable, and easy to integrate, Novade is deployed on a wide variety of projects around the world. Find out more about Novade's digital solutions at: https://www.novade.net/
About One To One Display
One to One Displays began in Melbourne in October 2018 being co-founded by Marian & Stefan Rafael. Since it began, it has focused on the integration of cutting edge technology to provide an immersive solution to understanding sizing and scale when it comes to construction.  The company's vision is to design a facility that would have the ability to provide an all immersive and human centred experience. It's co-founders were instrumental in the design, installation and integration of the facility as well as the constant and ongoing growth and strategy to build on this concept and develop it further to make it available everywhere through the digitisation of various functions.
Having previous experience across Change Management within large organisations in office upgrades and refurbishment, as well as extensive experience spanning 15 years within Audio Visual, Automation and Project Management across residential and primarily commercial projects has positioned this company as leaders in this space within the building & construction Industry.
One to One Displays is committed to continual growth, development and innovation. Human cantered design is a key driving factor in the way they conduct their business, engage in new business and carefully selected partnerships to see this company grow to being a global leading organisation in this industry.
About Signify
Signify (Euronext: LIGHT) is the world leader in lighting for professionals and consumers and lighting for the Internet of Things. Our Philips products, Interact connected lighting systems and data-enabled services, deliver business value and transform life in homes, buildings and public spaces. With 2018 sales of EUR 6.4 billion, we have approximately 28,000 employees and are present in over 70 countries. We unlock the extraordinary potential of light for brighter lives and a better world. We have been named industry leader in the Dow Jones Sustainability Index for two years in a row. News from Signify is located at the Newsroom, Twitter, LinkedIn and Instagram. Information for investors can be found on the Investor Relations page.
About Republic Polytechnic
The first educational institution in Singapore to leverage the Problem-based Learning approach for all its diploma programmes, Republic Polytechnic (RP) has seven schools and one academic centre offering 37 full-time diplomas in Applied Science, Engineering, Management and Communication, Hospitality, Infocomm, Sports, Health & Leisure, and Technology for the Arts.
RP is committed to nurturing professionals with strong problem-solving capabilities through an innovative and entrepreneurial learning environment, based on a holistic and industry-relevant curriculum. RP's Academy for Continuing Education also offers a comprehensive suite of lifelong learning programmes to provide adult learners with skills upgrading opportunities.
For more information, visit http://www.rp.edu.sg
For media queries, please contact:
Surbana Jurong
Eva Ho
Group Chief Communications and Branding Officer
E: eva.hohw@surbanajurong.com
M: +65 9790 6558
Glodon
Kimy Zhong
Senior Marketing Specialist
E: kimy.zhong@cubicost.com
M: +65 9658 1400
Republic Polytechnic
Office of Corporate Communications
Patrick Seng / Julian Soh
E: patrick_seng@rp.edu.sg/julian_soh@rp.edu.sg
M: +65 9767 6701 / +65 9018 0719
Novade
Melissa Gruver
Marketing Manager and Lead Designer
E: Melissa.gruver@novade.net
M: +65 8453 9524
One To One Display
Marian Rafael
Director
E: marian@onetoonedisplays.com.au
M: +0477 376 847
Bentley Systems
The Right Spin (Southeast Asia PR)
Kathlyn Loke
E: kathlyn@therightspin.com.sg
T: +65 6325 5927
51VR
Tzu Ruei Liu
Project Manager
E: liuzirui@51hitech.com
T: +8613701874669
VR Collab
Ryan Liew
E: ryan@vrcollab.com
M: + 65 9100 8417
Shui On
Vanessa Wo
Assistant General Manager
E: vanwps@shuion.com.hk
T: +852 2398 4752