A*STAR & SURBANA JURONG TO COLLABORATE ON BUILT ENVIRONMENT DIGITAL SOLUTIONS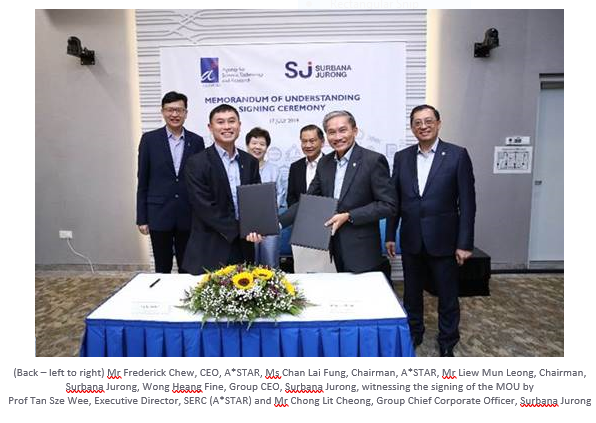 SINGAPORE – The Agency for Science, Technology and Research (A*STAR) and urban and infrastructure consultancy Surbana Jurong have signed a memorandum of understanding (MOU) to co-develop digital solutions for the planning, design and maintenance of smart cities, with a focus on commercialisation.
Under the MOU, A*STAR and Surbana Jurong will jointly develop advanced digital capabilities for three key areas:
1. Planning of cities, residential towns and industrial parks
2. Designandsimulationofbuildings
3. Services for efficient and sustainable operations and maintenance
Examples of possible applications include the development of advanced modelling systems to improve the process of urban planning of smart cities, as well as the creation of technologies for testing and inspection in facilities management.
Surbana Jurong's adoption of these advanced digital technologies would support its efforts to provide best in class consultancy solutions across the value chain including facilities and asset management services, thus strengthening its end-to-end service delivery and competitiveness, particularly in overseas markets.
As part of the commercialisation partnership, Surbana Jurong will incorporate, into its service offerings, technologies commercialised by A*STAR's SME and startup licensees. Surbana Jurong will also expose local companies in its supply chain to overseas markets for new business opportunities, including the 40 countries in which the company has an existing market presence. The upcoming Surbana Jurong Campus will also serve as a test-bed for new technologies in partnership with A*STAR, SMEs and startups.
"Moving forward, A*STAR will enhance our support for large local enterprises such as Surbana Jurong, so as to enhance their global competitiveness through leveraging technology. The fact that other local SMEs can benefit from this new partnership is a very important outcome," said Mr. Frederick Chew, Chief Executive Officer, A*STAR.
Mr. Wong Heang Fine, Group Chief Executive Officer, Surbana Jurong added, "With the emphasis placed on developing smart urban cities, it is crucial for Surbana Jurong to be equipped with the latest and most advanced digital technologies to better serve our clients in this area. We have focused strongly in recent years to adopt digital technologies and see good potential in further digitalising our solutions for the planning and design of smart cities. Our competitive advantage lies in our ability to deliver consultancy solution across the full value chain including facilities and asset management. We are confident that our collaboration with A*STAR will help us develop even more competitive, value-adding and cost effective solutions in urban and industrial planning, as well as facilities management for our clients."
About the Agency for Science, Technology and Research (A*STAR)
The Agency for Science, Technology and Research (A*STAR) is Singapore's lead public sector agency that spearheads economic oriented research and development. As a Science and Technology Organisation, A*STAR bridges the gap between academia and industry. Our research creates economic growth and jobs for Singapore, and enhances lives by contributing to societal benefits such as improving outcomes in healthcare, urban living, and sustainability. Through open innovation, we collaborate with our partners in both the public and private sectors to benefit society. A*STAR's R & D activities span biomedical sciences and physical sciences and engineering, with research entities primarily located in Biopolis and Fusionopolis. A*STAR also plays a pivotal role in nurturing scientific talent and leaders for the wider research community and industry. For ongoing news, visit www.a-star.edu.sg.
About Surbana Jurong
Surbana Jurong is one of the largest Asia-based urban, infrastructure and management services consulting firms. Leveraging technology and creativity, Surbana Jurong provides best-in-class consultancy solutions across the entire value chain of the urbanisation and infrastructure domains.
Headquartered in Singapore, the Surbana Jurong Group has a global workforce of over 16,000 employees in more than 120 offices across over 40 countries in Asia, Australia, UK, the Middle East, Africa and the Americas. The Surbana Jurong Group of companies include SMEC and Robert Bird Group in Australia, Sino-Sun in China, AETOS, KTP, SAA in Singapore and B+H in Canada.
Surbana Jurong has a track record of close to 70 years, and has built more than a million homes in Singapore, crafted master plans for more than 30 countries and developed over 100 industrial parks globally.
Surbana Jurong's motto 'Building Cities, Shaping Lives' reflects its belief that development is more than just steel and concrete. Surbana Jurong creates spaces and designs infrastructure where people live, work and play, shaping cities into homes with sustainable jobs where communities and businesses can flourish. For more information, please visit www.surbanajurong.com
Media Contacts
Elizabeth Han
Senior Officer, Corporate Communications
Agency for Science, Technology and Research (A*STAR) DID: +65 6517 7940
Mobile: + 65 9759 2284
Email: elizabeth_han@hq.a-star.edu.sg
Lee Hui Ru
Assistant Manager, Group Communications and Branding Surbana Jurong Private Limited
DID: +65 6248 1021
Mobile: +65 9010 0751
Email: huiru.lee@surbanajurong.com