Designation
Director, Economic & Industrial Planning
---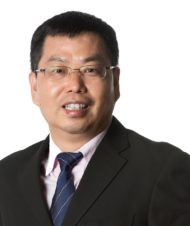 With over 29 years of experience in research, engineering design and urban master planning, Dr ZHANG Qingyu is currently a Director in Economic and Industrial Planning within the Urban Planning and Design division. Holding a degree of doctor of philosophy from the National University of Singapore (2001), he is an engineer by training and joined Jurong International in 2003. He focused his efforts on these key areas:
Infrastructure engineering
Port plan and design
Regional strategic and industrial positioning studies
Master plans for industrial towns
Marine hydrodynamic and pollutant transport fate modelling.
Dr Zhang has previously held leadership positions, in which he oversaw a group of engineers, planners and architects with no fewer than 90 local and overseas projects, with focus on projects in China.
Prior to this, Dr Zhang studied and worked in Tropical Marine Science Institute, National University of Singapore (NUS) as a research fellow and coastal process research group leader. He developed a general purpose, three-dimensional multilevel model, which can be applied to a wide variety of environmental problems and can operate at a variety of temporal and spatial scales in open channel flow, estuarine, coastal and ocean waters. Earlier in his career, Dr Zhang was a research Engineer and served as the head of a unit within the Institute of Yellow River Hydraulic Research, Yellow River Conservancy Commission (China) from 1989 to 1994.
---
City-Industry Integrated Planning and Development in Singapore
By: Economic and Industrial Planning Team Dr Zhang Qingyu Director Shao Yong Senior Executive Planner Background City-industry integration is a central tenet of sustainable growth. By integrating diverse land uses, the elements of "industry" and "city" are to be well-balanced within a regional cluster. "Industry" refers to activities involving goods
see more
Singapore's Logistics Industry Development Experience
When Singapore gained its independence in 1965, it was a low income country with limited natural resources, infrastructure, investment and jobs. Today, the small city-state is home to the world's largest transhipment container port, and boasts the world's best airport, connecting to 380 cities in some 90 countries. Dr Zhang
see more