Designation
Senior Executive Engineer, Civil and Environmental Engineering
Expertise
Transport Planning
---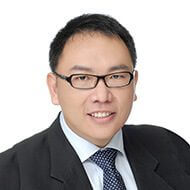 We can make our environment more car-lite, more sustainable and a more attractive place to live.
Dr. WU Xian joined Surbana Jurong Consultants in 2013 and is currently heading the transport planning team. He obtained his PhD in Transportation Systems and Management from National University of Singapore (NUS).
His research focused on Transport Planning and Management including Intelligent Transport System (ITS), Geographic Information System (GIS) and Transport System Modelling & Optimization.
He has provided transport consultancy services to many countries including Singapore, Malaysia, Indonesia, Philippines, China, India, Maldives, UAE and Ghana. He is familiar with transport master planning, traffic impact assessment, airport land transport study and other transport related subjects.
---
How Technology Can Make Singapore A Car-lite Society
Modern cities are embracing new digital technologies, the power of data and artificial intelligence to wane populations off the car and onto a new range of more sustainable transport modes. Singapore is leading the way in this challenge with its new strategy to become "car-lite" by 2030.
see more