Designation
Manager, Energy and Industrial Division
---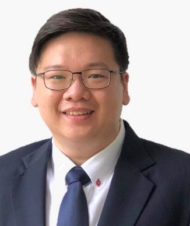 Wang Zhenglin is a Manager in the Energy & Industrial Division at Surbana Jurong Infrastructure ('SJI'). He brings over 12 years of commercial experience in the energy and petrochemical sectors. He has held roles across infrastructure investments and development, trading, and investment promotion in multinational companies as well as for the Singapore government.
Zhenglin has experience handling products across the barrel including feedstocks, refined petrochemical products and refrigerated gases. Prior to joining SJI, he was responsible for conducting feasibility studies and economic evaluations for oil and gas infrastructure projects as well as optimizing feedstock, refined products and petrochemicals flows for a multinational refining and downstream company.
He is also versed with developing and managing industrial parks as well as petrochemicals value chain development. During his time with the Singapore government, Zhenglin facilitated major capital investments from oil majors and petrochemical players. He was also involved in initiatives to enhance the overall competitiveness of the Jurong Island Chemicals Hub in Singapore.
Zhenglin graduated with a Bachelor (Hons) of Science from the National University of Singapore.
---
Cracking The Code To Smart Industrial Parks
Contributed By: Energy and Industrial Division, Surbana Jurong Infrastructure Wang Zhenglin, Manager Cynthia Tan, Manager Tara Tang, Assistant Manager Dennis Tan, Director, Strategic Projects Introduction The rise of the digital economy has prompted countries to review their policies and infrastructure; and has also increased the pressure on companies across all
see more