Designation
Executive Director & CEO, AETOS
Expertise
Security solutions
---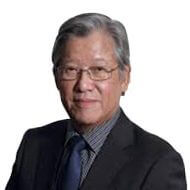 In the future, buildings will depend less on manpower, and more on user-friendly automated services to purposefully manage their security.
Mr James TAN, is the Executive Director/Chief Executive Officer of AETOS Holdings Pte Ltd and has held this position since May 2011. Prior to his current position, he was the CEO of COSEM Safety & Security Services Pte Ltd from 2009 to 2011, Commissioner of the Singapore Civil Defence Force (SCDF) from 1992 to 2009, and had also held various command positions in the Singapore Armed Forces (SAF) from 1982 to 1992.
After taking over the helm, Mr Tan has almost doubled the business revenue and profit of AETOS within a short span of 6 years. In 2013, Mr Tan added Safety & Security Consultancy and Technology businesses into AETOS, setting in motion even greater growth for AETOS Holdings and its subsidiaries.
---