Designation
Transport Advisor
Expertise
Transport Planning
---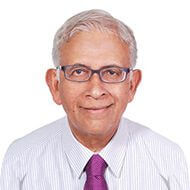 The urban mobility challenge lies in first understanding the needs of the transport user.
Mr Gopinath MENON has 47 years of experience in urban traffic planning, construction and management, including 27 years of experience in lecturing to graduate and undergraduate students on transport engineering at the Nanyang Technological University. He was effectively the Chief Transportation Engineer of Singapore from 1991 to 2001.
After retirement, he has offered local and overseas transport consultancy services (including training) with local consultancy firms. In these, he has worked in Tianjin, Dali, Zhuhai (China), New Delhi, Bangalore, Amaravati (India), Fiji, Mauritius, Doha (Qatar), Jakarta (Indonesia), Colombo (Sri Lanka), Maldives, Bogota (Colombia), Vientiane (Laos), Phnom Penh (Cambodia) and Hanoi (Vietnam),
He is a member of the Public Transport Council and the Active Mobility Advisory Panel of the Ministry of Transport and was Vice-Chairman of the Singapore Road Safety Council of the Ministry of Home Affairs from 2009-2015.
---
Tackling The Urban Mobility Challenge
The motor car has transformed lives around the globe by providing affordable and rapid personal transport to the masses. But its success has come at a cost in terms of congestion, pollution and impact on the planet.
see more