Designation
Head Operations, SMM Pte Ltd (Member of the Surbana Jurong Group)
---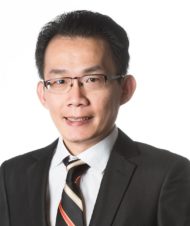 Edmund YOONG currently heads the Operations of the Education sector in SMM Pte Ltd (Member of the Surbana Jurong Group), who holds key accounts in local Universities, as well as Polytechnics. Edmund obtained his Bachelor of Engineering with Honors (First Class) in Electrical and Electronics Engineering from Hertfordshire University, United Kingdom.
Having possessed a diverse range of experience in the field of Facilities, Project and Energy Management, Edmund has successfully delivered sustainable and economical solutions to clients of the education sector.
Edmund is also a Technical Advisor to SMM's distinguished Energy Efficient Passive Displacement Ventilation System Installation Project in one of the reputed and biggest University in Singapore – which is targeted for completion in March 2020.
He also spearheads the company's business development plans and is deeply involved in the procurement of contracts through tender presentations and bids in Singapore. To add, Edmund also leads an Energy and Sustainability team to assist a client in winning the First Singapore Green Mark platinum Star Champion Award by Singapore's Building and Construction Authority (BCA) – which is considered the highest accolade in Singapore for outstanding commitment to Sustainable Design.
---
Facilities Management - Moving in Tandem with Technology
The old paradigm of Facilities Management (FM) is viewed primarily as a maintenance focused field, with FM team running on regular team schedule, and the use of nuts and bolts to rectify faults and breakdowns. This model has since evolved with technological advancements making great strides, having the ability to
see more