Designation
Director, Civil and Structural Engineering
Expertise
Civil and Structural Engineering
---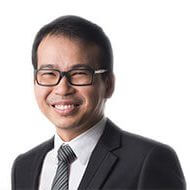 Engineers will have to embrace a major leadership role in this technological society. This will see us shape, plan, generate and integrate new and possibly revolutionary solutions and ideas to meet growing challenges in our society.
Mr Aaron FOONG is the Director of civil and structural engineering at KTP Consultants Pte Ltd — a member of Surbana Jurong.
Aaron's technical leadership and hands-on multidisciplinary engineering approach has seen the successful completion of a wide range of building typologies and infrastructure project developments in the region. In Singapore, he had completed the structural engineering design and construction supervision of recent award-winning public and private developments including the Metropolis, NUS AS8, The Scotts Tower, Sentosa Family Entertainment Centre and CTHub.
To date, he is honoured to have received several Design and Engineering Safety Excellence Awards (DESEA) from the Building and Construction Authority (BCA) as the Qualified Person for his highly innovative and safety-driven approach in optimising engineering design and construction methodologies. As a firm believer that a good structural design goes hand in hand with good architectural design, he advocates the open-minded approach to cross fertilise knowledge and collaborate across various aspects of the design to carve out overall intelligent and holistically tailored solutions in his work.
---
The Race of Change Continues
Technology is accelerating the pace of change and disrupting every aspect of modern life. Engineers of the future will face a critical challenge to lead, shape, plan and integrate the built environment solutions that allow society to live safe and rewarding lives.
see more