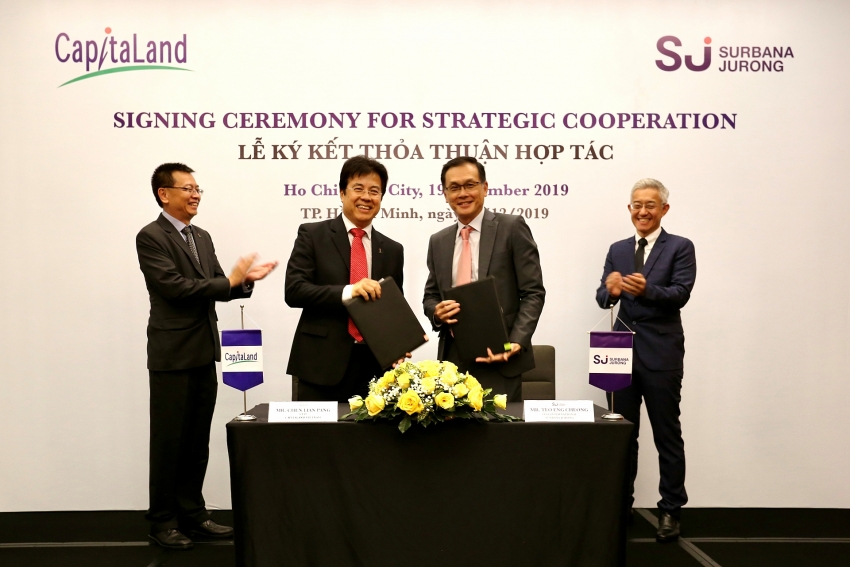 Mr Chen Lian Pang, Chief Executive Officer of CapitaLand Vietnam (middle left) and Mr Teo Eng Cheong, Chief Executive Officer, International of Surbana Jurong (middle right) at the signing ceremony
Ho Chi Minh City, 19 December 2019 – CapitaLand Vietnam and Surbana Jurong have signed a Memorandum of Understanding (MOU) to collaborate on the development of sustainable and smart city solutions for future projects in Vietnam. 
Speaking at the signing ceremony held in Ho Chi Minh City on 19 December 2019, Mr Chen Lian Pang, Chief Executive Officer of CapitaLand Vietnam said, "Vietnam's rapid urbanisation has created demand for sustainable and smart solutions in real estate. Through this collaboration with Surbana Jurong, we hope to leverage on our combined strengths, expertise, and resources to further contribute towards the growth of Vietnam through our pipeline projects."
Mr Teo Eng Cheong, CEO International of Surbana Jurong said, "Surbana Jurong is able to harness our unique experience and expertise to plan and design sustainable and smart projects of different nature and scale. Some of these projects include the New Clark City in The Philippines, Microsoft ZiZhu Campus in Shanghai, Guangming Smart City in Shenzhen and Pimpri Chinchwad Smart City, adjoining Pune City in the state of Maharashtra in India. We look forward to a fruitful partnership with CapitaLand Vietnam where Surbana Jurong can play a part to build socially, economically and environmentally sustainable communities in Vietnam."
The partnership will leverage Surbana Jurong's proven experience in complete value-chain consultancy services, done in a sustainable and resilient manner. These range from master planning and urban, architectural and engineering design to quantity surveying and project management. Surbana Jurong has successfully completed varied projects including townships, schools, residential, commercial and industrial developments in Singapore and overseas.
CapitaLand Vietnam and Surbana Jurong have previously collaborated for Seasons Avenue, a residential project in Hanoi, where Surbana Jurong was the lead design consultant and the contract administrator for the project. Earlier this year, Seasons Avenue was awarded with green certification by the Building & Construction Authority of Singapore.
About CapitaLand Vietnam
CapitaLand Vietnam is a business unit of CapitaLand, one of Asia's largest diversified real estate groups.
After 25 years of operation in Vietnam, CapitaLand's portfolio in Vietnam comprises two integrated developments, close to 8,600 quality homes across 15 residential developments, two retail malls, one business park as well as more than 7,000 lodging units in 28 properties across nine cities – Ho Chi Minh City, Hanoi, Hai Phong, Halong, Hoi An, Danang, Binh Duong, Cam Ranh and Nha Trang.
In line with CapitaLand's credo 'Building People. Building Communities.', the Group is committed to contribute to the Vietnamese economy by seeking opportunities to expand its presence in the country. CapitaLand will also continue to hire and nurture a strong local team, exchange knowledge and skills with local partners and contribute to the local communities' underprivileged children and environment through corporate social responsibility efforts. CapitaLand has built four CapitaLand Hope Schools for underprivileged children in Phu Tho, Long An and Hung Yen Province.
About Surbana Jurong
Surbana Jurong is one of the largest Asia-based urban, infrastructure and management services consulting firms, with close to 70 years of track record in successful project delivery. Headquartered in Singapore, the Surbana Jurong Group of companies comprises SMEC and Robert Bird Group in Australia, Sino Sun in China, AETOS, KTP and SAA in Singapore and B+H in Canada.
Surbana Jurong's technical experts deliver best-in-class solutions that cover the entire project life cycle from planning and design, through to delivery and management, and even decommissioning and closure. Surbana Jurong provides a full suite of consultancy services across a diverse range of sectors such as aviation, healthcare, hospitality, transport, water and environment, energy and resources.
With a wealth of experience, Surbana Jurong has built more than a million homes in Singapore, crafted master plans for more than 30 countries and developed over 100 industrial parks globally, building homes and designing cities that are socially, economically and environmentally sustainable, empowering communities to thrive.