Unlock the full potential of your assets with our Asset & Integrity Management suite of services. We have delivered complex asset management services in technical and regulated environments for over 40 years.
Surbana Jurong's Asset & Integrity Management team offers the optimum balance between risk, performance and cost for our clients. Our services are complemented by our extensive engineering expertise, allowing us to develop and incorporate asset management solutions during a project life cycle.
We specialise in operations and maintenance to provide a complete set of end-to-end asset integrity solutions globally. We aim for increased plant, machinery and asset availability, measurable safety and integrity, and optimised expenditure.
Improved performance and productivity through increasing the overall return on investment (ROI)
Improved safety and environmental management
Increased productivity through asset reliability
Core services
Asset & Integrity Health Check
An asset health check is an important process to provide clients an assessment of the assets' operational and technical integrity. At the same time, the assessment also provides suggestions and improvements to enhance the assets' robustness.
Asset Integrity Framework
Adopts high level of asset, integrity and safety standards
Process Optimisation & Efficiency
Improvements in business and operational processes to deliver better business outcomes
Benchmarking & Analysis
Analyse gaps in safety and performance of assets vis-à-vis industry best practices to evaluate areas of improvements
Inventory, Materials & Spares Management
Manages the overall maintenance of inventory, materials and spares to mitigate downtime and cost reduction
Maintenance & Reliability Optimisation
Develop strategic maintenance strategies to execute a systematic suite of activities that will enhance customers' maintenance programme
Operations & Maintenance
Offers multidisciplinary operations and maintenance support services for clients across a wide range of services
Operational Readiness
Ensures end-to-end planning and execution of critical activities
Reach out to us at sb-sjsg-ms@surbanajurong.com  for more information
Read on for complementary Managed Services offering.
---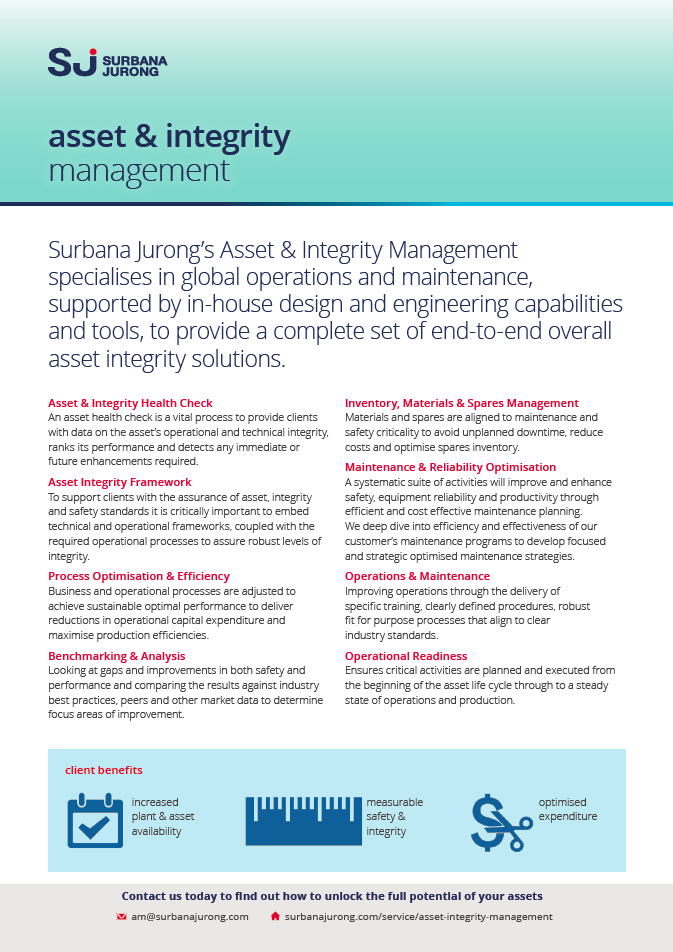 Asset and Integrity Management Brochure

English