SJ signs MOU with Sri Lanka's Board of Investment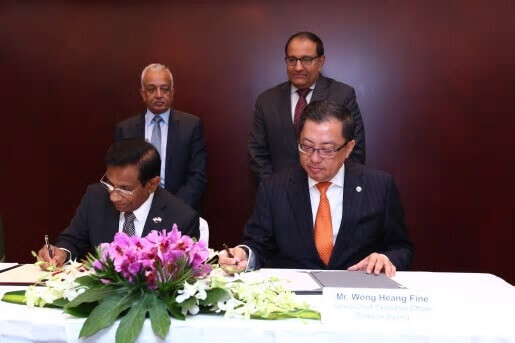 Singapore, 19 July, 2016 – Following Surbana Jurong's recent Memorandum of Understanding (MOU) with Sri Lanka to undertake the master planning of Trincomalee, the company has today signed another MOU with Sri Lanka's investment promotion agency, Board of Investment to set up a technical consultancy services company which will provide professional services, such as feasibility studies, project management and project implementation for urbanisation and infrastructure projects in Sri Lanka and overseas.
Under the MOU, the consultancy company is expected to accelerate the project identification, planning and implementation process for urbanisation and infrastructure projects in Sri Lanka to attract top-tier investors.
The MOU was signed this afternoon by H.E. Mr. Nimal Weeraratne, High Commissioner of Sri Lanka in Singapore and Mr Wong Heang Fine, Group CEO for Surbana Jurong.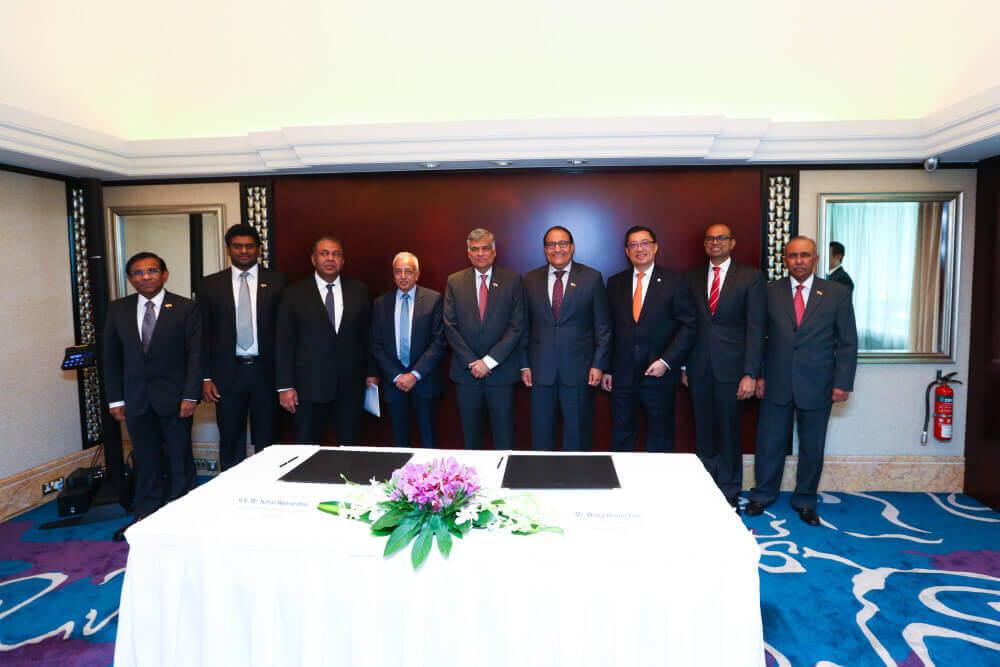 Surbana Jurong Group CEO, Mr Wong Heang Fine said, "We are very pleased to be part of this joint initiative. Having developed the Western Region Megapolis Plan (WRMP) and now in the process of developing a Master Plan for the Trincomalee Metro Area (TMA) in Sri Lanka, Surbana Jurong is well-positioned to help Sri Lanka attract investments by providing consultancy services in project feasibility studies and project implementation. Through this company, Surbana Jurong intends to tap on and build up a core local Sri Lankan technical base to support its urban and infrastructure consultancy works in Sri Lanka and globally."
The joint initiative will encompass both domestic and overseas consultancy work, giving Sri Lankan professionals the opportunities to develop cutting edge management tools in urban redevelopment and implementation of infrastructure projects.
"We are in the process of strengthening Sri Lanka's position as a more attractive investment destination. The establishment of such a consultancy will help our efforts in making sharper and more accurate assessments of Sri Lanka's investment potential and priorities," said the High Commissioner of Sri Lanka in Singapore, Mr. Nimal Weeraratne.
For media enquiries, please contact:
Alvin Hang
Group Director, Corporate Communications
Surbana Jurong Private Limited
+65 9222 1010
alvin.hangwy@surbanajurong.com
Lyn Lee Foo
Senior Manager, Group Corporate Communications
Surbana Jurong Private Limited
+65 9694 0842
lynlee.foo@surbanajurong.com 
About Surbana Jurong
Surbana Jurong is one of Asia's consultancy powerhouses for urbanisation and infrastructure developments.
We have a distinguished track record in shaping Singapore's urban and industrial landscape over the last 50 years and we deliver total urbanisation, infrastructure and engineering solutions to support sustainable social and economic growth for our clients.
Our multi-disciplinary team of specialists provides one-stop complete value chain consultancy services harnessed through years of successfully completing a wide array of projects in more than 200 cities in over 50 countries worldwide. We have designed and completed more than a million homes in Singapore, completed masterplans for over 30 countries and developed more than 50 industrial parks around the world.
In June 2015, Surbana Jurong acquired two companies – KTP Consultants Pte Ltd in Singapore and Sino-Sun Architects & Engineers Co. Ltd in China. These two acquisitions grew our staff strength by 25%, strengthened our infrastructure development capabilities and brought our market reach in China to 16 cities.
We announced in November 2015 that we had taken up a 20% equity stake in China's CITICC (Africa) Holding Limited, a USD300 million investment platform set up between International Financing Company (IFC), a member of the World Bank Group and Chinese multinational construction and engineering company, CITIC Construction Co., Ltd – which would see us potentially developing 30,000 affordable homes in Africa in the next five years.
Surbana Jurong also took up a 8.4% stake (USD 9.25 mil) in an American software company, FLUX Factory, Inc, a spin-off from Google X, which builds collaborative cloud-based software tool used for building design, urban solutions and master planning, which will grow our sustainable and building design capabilities.
With over 600 international and local awards under our belt, we have what it takes to understand, anticipate and exceed our clients' expectations. Today, Surbana Jurong employs over 4,000 employees from 40 nationalities in 26 offices across Asia, Africa and the Middle East.