SJ & JOIN to cooperate in overseas urban & infrastructure projects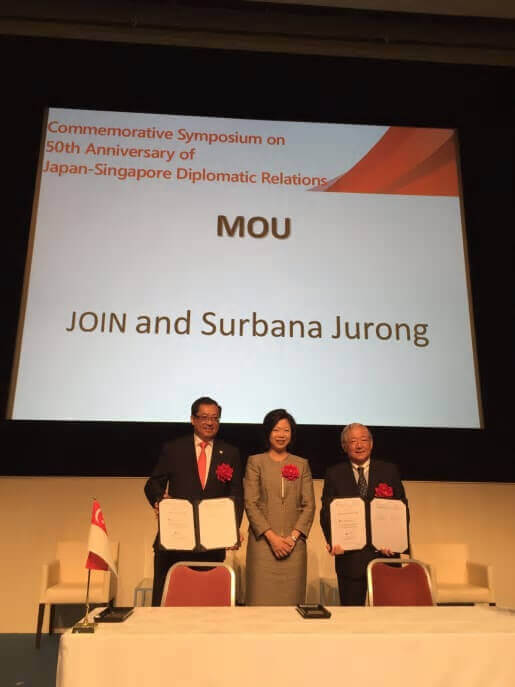 Tokyo, 28 September 2016 – Singapore-based Surbana Jurong Private Limited (Surbana Jurong), one of Asia's leading consultancies in urban and infrastructure developments, and Japan Overseas Infrastructure Investment Corporation for Transport and Urban Development (JOIN), a Japanese governmental policy-based company engaged in investments in transportation and urban development projects outside of Japan, signed an MOU today to cooperate in overseas urban and infrastructure projects.
The MOU between SJ and JOIN covers the following areas of collaboration:
sharing of information on various types of infrastructure projects;
exploration of urban / infrastructure projects participation by both Singaporean and Japanese companies; and
creating project solutions incorporating know-how and technology from both Singapore and Japan.
It sets out the parties' intent to discuss potential infrastructure projects in Singapore, ASEAN, India, Middle-East and Africa, as the parties may consider appropriate. Such projects might involve railways and transport systems, toll roads, port terminals, airport terminals, urban development, and logistics.
Commenting on the MOU, Surbana Jurong Group CEO Mr. Wong Heang Fine said: "We are delighted to have this cooperation with JOIN for infrastructure projects in developing countries, particularly in the ASEAN region and the African continent. Surbana Jurong has extensive track record and knowledge of implementing such projects in ASEAN countries and many parts of Africa, which is why we are an ideal partner for JOIN as it explores investment opportunities abroad. With operations in over 40 countries and 100 cities and multi-disciplinary technical expertise to design and engineer projects across a wide range of sectors, including transport, power, residential and industrial township, water, aviation, oil & gas and energy, we will be able to offer JOIN a one stop solution in urban and infrastructure developments."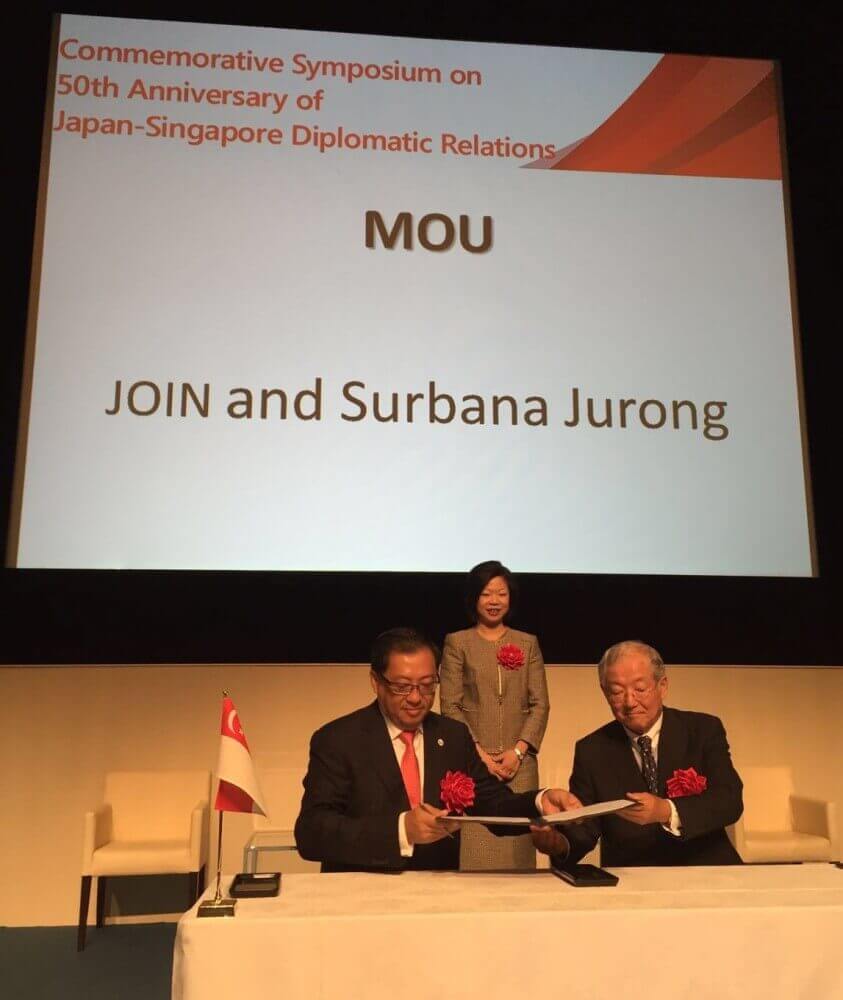 The MOU was signed as part of celebration events in Tokyo to mark 50 years of diplomatic relations between Singapore and Japan. The exchange of the MOU was witnessed by Japanese Prime Minister Shinzo Abe and Singapore Prime Minister Lee Hsien Loong before they delivered their press remarks.
For media queries, please contact:
Alvin Hang
Group Director, Corporate Communications
T: +65 9222 1010 | alvinhangwy@surbanajurong.com
About Surbana Jurong
Surbana Jurong (SJ) has a rich 50-year heritage in the development of Singapore's urban, industrial and infrastructure landscape. SJ traces its roots to the Housing Development Board (HDB) and the Jurong Town Corporation (JTC), agencies synonymous with Singapore's early township and industrialisation efforts.
Headquartered in Singapore, Surbana Jurong Private Limited (SJ) was formed in June 2015 through the merger of renowned urban planning & affordable housing design expert Surbana International Consultants, and Jurong International, Singapore's premiere industrial and infrastructure engineering design stalwart.
In August 2016, SJ acquired world-renowned infrastructure engineering designer SMEC Holdings. With this acquisition, SJ now boasts a combined global workforce of 10,000 employees in over 95 offices across 40 countries in Asia, Australia, the Middle East, Africa and the Americas. SJ is also presently the largest Asia-based urban, industrial and infrastructure consulting firm. SJ today provides one-stop consultancy solutions across the entire value chain of urbanisation, industrialisation and infrastructure domains.
SJ's motto 'Building Cities, Shaping Lives' reflects its belief that development is more than just steel and concrete. SJ creates spaces and infrastructure services where people live, work and play, shaping cities into homes with sustainable jobs where communities and businesses can flourish.
---

Download Article