Surbana Jurong inks four MOUs to expand footprints in Africa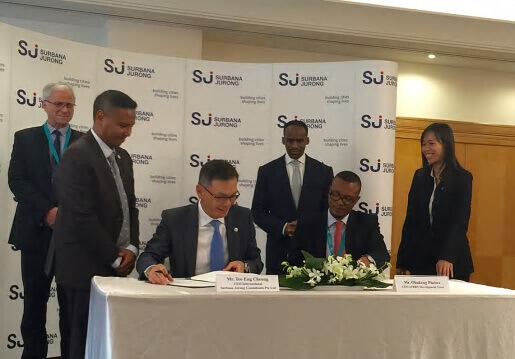 Singapore, 24 August 2016 – Surbana Jurong has signed a string of MOUs with the Royal Bafokeng Nation and three international organisations namely Mixta Africa, Quantum Global and The International Federation of African Consular Chambers & Trade (FICA) to expand its footprints in Africa.
With its deep experience and expertise in urban planning and industrialisation, Surbana Jurong has already undertaken projects in 15 countries in Africa including Ghana and Gabon and will continue to do so in more countries.
Surbana Jurong CEO (International) Teo Eng Cheong said, "Africa is the second-fastest urbanising continent, after Asia. The demand for urbanisation and infrastructure in Africa is burgeoning. With the business environment in Africa being favourable to multinational companies, we are excited to partner with major players such as Mixta Africa, a highly active participant in the African Real Estate sector and Swiss-based Quantum Global, an investment partner with unique expertise in identifying gateway opportunities between Africa and international markets to help us grow our presence in this market."
"Our work there will include designing affordable housing and formulating long term development and capacity building solutions by unlocking Africa's resources in a sustainable way that will positively impact its economic and social development," he added.
Surbana Jurong has done many projects in the rapidly developing continent specifically in the Republic of Congo, Angola, Burundi, Nigeria, Mauritius, South Africa and others since 2005. One of Surbana Jurong's major projects there was creating a master plan for the Rwandan capital city of Kigali to turn it into a financial hub for Africa in 2009. The master plan won the Best Overseas Planning Project Award 2010 and Best Planning Project 2013 in the Singapore Institute of Planners Awards.
Mr Teo signed the four MOUs at an event on the sidelines of the Africa Singapore Business Forum held at the Grand Copthorne Waterfront Hotel.
Witnessing the signings were Er. Louis Tay, Surbana Jurong's Managing Director, Africa; Chief Executive Officer of the Royal Bafokeng Nation Development Trust Obakeng Phetwe and State Minister of Industry, Ethiopia, Dr. Mebrahtu Meles.
__________________________
For media enquiries, please contact:
Alvin HANG
Group Director, Group Corporate Communications
T: 6248-1100 |alvin.hangwy@surbanajurong.com
Lyn Lee FOO
Senior Manager, Group Corporate Communications
T: 6248-1019 | Lynlee.foo@surbanajurong.com
About Surbana Jurong
Surbana Jurong (SJ) has a rich 50-year heritage in the development of Singapore's urban, industrial and infrastructure landscape. SJ traces its roots to the Housing Development Board (HDB) and the Jurong Town Corporation (JTC), agencies synonymous with Singapore's early township and industrialisation efforts.
Headquartered in Singapore, Surbana Jurong Private Limited (SJ) was formed in June 2015 through the merger of renowned urban planning & affordable housing design expert Surbana International Consultants, and Jurong International, Singapore's premiere industrial and infrastructure engineering design stalwart.
In August 2016, SJ completed a transformational merger with world-renowned infrastructure engineering designer SMEC Holdings. With this complementary merger, SJ now boasts a combined global workforce of 10,000 employees in over 95 offices across 40 countries in Asia, Australia, the Middle East, Africa and the Americas. SJ is also presently the largest Asia-based urban, industrial and infrastructure consulting firm. SJ today provides one-stop consultancy solutions across the entire value chain of urbanisation, industrialisation and infrastructure domains.
SJ's motto 'Building Cities, Shaping Lives' reflects its belief that development is more than just steel and concrete. SJ creates spaces and infrastructure services where people live, work and play, shaping cities into homes with sustainable jobs where communities and businesses can flourish.
---

Download Article