Surbana forms new strategic partnerships in Zhejiang with JVA and MOU signings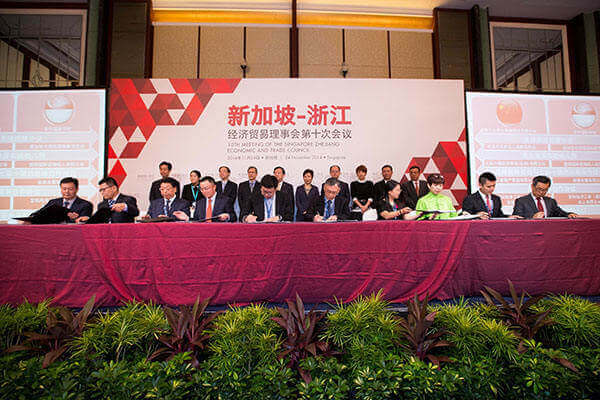 Singapore, 24 November 2014 – Surbana International Consultants today signed a Joint Venture Agreement (JVA) with Enjoytown Investment Management (Hangzhou) Co Ltd, forming a strategic partnership, which is expected to create more business opportunities for Surbana in Zhejiang province.
This milestone signing demonstrates Surbana's future direction for China as well as its expansion plans in Zhejiang. To be named Hangzhou Surbana-Enjoytown Project Management Co. Ltd, this joint venture company will see Surbana capitalising on its project management expertise as Enjoytown and Surbana enters into an exclusive partnership on projects requiring such services. This timely partnership will put Enjoytown-Surbana at the forefront in the industry as it unifies the expertise of both companies by providing a full suite of services to potential clients.
Surbana, Enjoytown and Zhejiang Nongfa Lanhai Industrial Ltd. Co. also signed a Memorandum of Understanding (MOU) relating to Hangzhou Bay's Jiangnan Eco-Town located in Shaoxing. This three-way collaboration will see Surbana working closely with its other two partners to develop the Jiangnan Eco-Town which spans over 4700mu (313ha). The initial start up area which Surbana will be involved in is part of a wider area that will potentially see the development of an eco farm land and a National Modern Agricultural Demonstration Park. Surbana will provide a full suite of services including master planning, architectural design and project management services for this Eco-Town. When developed, this Eco-Town will become a model urbanisation project showcasing Surbana's 50 years of township experience.
Said Surbana's Managing Director for China James Tan: "This is the first such JVA we have in China whereby we partner a local Chinese developer to provide Project Management and other related services. Enjoytown is a reputable developer which is playing an active role in Zhejiang's urbanisation plans. Through this partnership, both parties will actively solicit Project Management jobs in Zhejiang and potentially other provinces in China. We look forward to growing this partnership over time."
Enjoytown's Chairman and CEO Mr David Xu also commented, "This newly set-up joint venture company with Surbana will give Enjoytown the necessary capabilities to grow and empower our business in China. Leveraging on Surbana's Singapore style way of doing things and their long standing reputation of urbanising Singapore, we aim to provide our clients with top-notched services which will help to transform Zhejiang into a vibrant and livable region in the near future."
Nongfa's Chairman Mr Fu De Rong noted, "We have seen Surbana's various successes, including the iconic Singapore skyline. Singapore's positive reputation in planning and designing has long been known in China. As Zhejiang continues to evolve, Nongfa will play a contributing role in developing the landscape of Zhejiang and we look forward to having Surbana on board with us as they share with us their expertise."
The Singapore-Zhejiang Economic and Trade Council meeting, held today, is co-chaired by Ms Grace Fu, Second Minister for the Environment and Water Resources and Second Minister for Foreign Affairs, and Zhejiang's Party Secretary Mr Xia Baolong.