Surbana deepens roots in Myanmar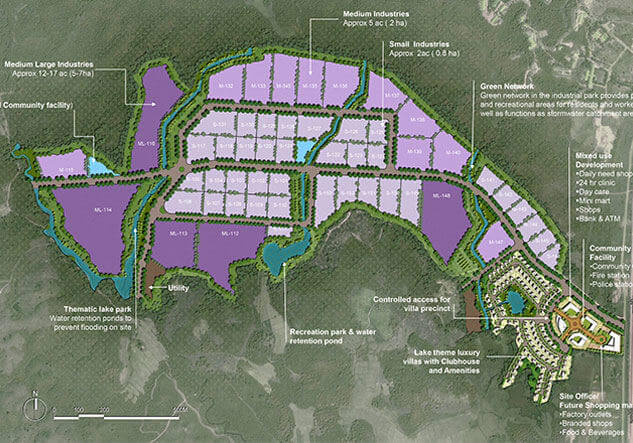 Yangon, Myanmar — Surbana International Consultants (Myanmar) announced today that it has secured new projects in Bago division and Yangon as well as awarded USD$10,000 worth of scholarships to students from the Yangon Technological University in an effort to grow the professional services sector in engineering and architecture.
The latest major project that Surbana secured is a masterplanning project in Bago division in Myanmar. This comes on the back of two other major projects which it announced earlier this year – a residential development within the Dagon Seikkan Township and the iconic Yangon Aquarium, which is slated to be a major tourist attraction.
Speaking at a ceremony to hand out the scholarships, General Manager of Surbana (Myanmar), Gareth Wong: "Surbana Myanmar started operating in 2013 with our first project, the Dagon Seikkan Township. In April 2014 we opened our first branch office where we also announced our involvement with the iconic Yangon Aquarium. The groundbreaking ceremony for the aquarium project was held in October this year. Today, we are happy to announce that we are masterplanning the i-Land Industrial Park, a significant project that will support the economic growth plans of Bago division."
"In Yangon, we have undertaken new projects in facilities management for an integrated retail complex in Yangon as well as design services for a boutique cluster housing project in the heart of the city. We are also working on several project management jobs, one of which is for the upcoming Polo Club Residences that will be launched later this month. In this short timeframe, Surbana has expanded into different sectors beyond Yangon," added Wong.
As part of its growth strategy, Surbana is also committed to work with its partners to grow the professional services sector, particularly in the areas of engineering and architecture.
Added Wong, "Surbana is committed to be in Myanmar for the long haul and to grow its presence. We will invest time and effort to develop Myanmar's professional services sector particularly in the areas of engineering and architecture. The scholarship is our first cross collaboration project with the government, professional bodies, education institutions and developers to achieve this objective and it will also not be the last as we continue to secure more jobs in Myanmar."
With the uptake in new job orders, Surbana has upgraded its branch office to a full-fledged subsidiary and awarded USD$10,000 worth of scholarships to five students from the Yangon Technological University (YTU) to beef up its local workforce.
The five scholars are currently pursuing courses related to architecture, electrical and civil engineering at YTU. Each scholarship is valued at US$2,000 and will cover tuition fees, monthly maintenance allowance and miscellaneous fees. The award amount is one of the largest quanta offered in a single disbursement by a foreign company in Myanmar.
Said U Min Htein, Director General of the Department of Human Settlements & Housing Development, Ministry of Construction: "Surbana's progressive growth in Myanmar is undoubtedly a good sign for the country, and the Surbana-Myanmar Scholarship is a strong show of their commitment to being here for the long haul. I look forward to many more years of collaboration with Surbana to grow and develop Myanmar's building and construction sector."
Said Singapore Ambassador to Myanmar, His Excellency Mr Robert Chua: "I commend Surbana for bringing together industry, academia and the government sectors through the Surbana-Myanmar Scholarship. The close collaboration also reflects the strong ties between Myanmar and Singapore."
Said YTU Rector, Prof Aye Myint: "YTU is very privileged to have the opportunity to partner Surbana International Consultants in this inaugural Surbana-Myanmar Scholarship. The programme aims to provide the chosen scholars with professional opportunities to advance themselves in the fields of engineering and architecture, by tapping on Surbana's international network or projects and experience. I am excited for these chosen scholars as they will gain a broad spectrum of working experiences and new perspectives with Surbana. I am also confident that this will enable them to become more technically competent and professional, which will in turn raise the overall standards in engineering and architecture in Myanmar."
Said one of the scholars, May Soe San: "I'm proud to be part of the pioneering batch of Surbana-Myanmar scholars. With this scholarship, the knowledge and exposure that I'm going to receive will definitely help in my future career in civil engineering."
Scholarship recipient, Hlaing Bwar said: "I'm elated to receive this scholarship, and I believe it will bring me closer to an exciting and fulfilling career in architecture and engineering."
More on the Surbana Scholarship
The five scholars were selected based on their technical competency, leadership qualities, character and values, as well as motivation and passion. Scholars will have an opportunity to work with partner Myanmar authorities and professional agencies and Surbana (Myanmar) after graduation.
About i-Land Industrial Park
i-Land Industrial Park is a 160-ha development strategically located 65 kilometres from Yangon city and a 45 minute drive from the upcoming Hanthawaddy International Airport, it is slated to be a key strategic economic node as well as the first and largest integrated industrial hub in Bago state. It will contribute to the state's larger economic objective of attracting local and international investors, businessmen, skilled workers and tourists.
About Surbana International Consultants
Surbana International Consultants (www.surbana.com) is a leading urban solutions consultancy.
A Singapore, Temasek-Linked company and award winning urban solutions consultant, our clients value and trust us to meet their development needs.
Our expertise is backed by over 50 years' experience building more than a million homesacross 26 townships and shaping the urban landscape in Singapore – one of the world's top 10 best cities recognised for urban sustainability.
From masterplanning to engineering, architecture design, project management, land reclamation, coastal engineering, underground engineering & city management, Surbana's expertise cuts across many sectors – real estate, aviation, healthcare, infrastructure.
Our multi disciplinary team of experts knows what it takes to provide urban solutions in Asia, Africa and the Middle East.We have completed projects in 90 cities in 30 countries over the last 10 years.
Today, Surbana employs over 2,200 employees in 14 cities across Asia, Africa and the Middle East.