IE Singapore facilitates partnership between SJ and 2 SMEs for 1st lift monitoring project in Guangzhou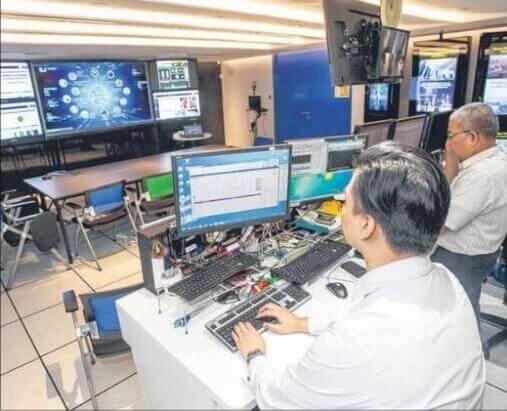 Singapore, 2 November 2017 – International Enterprise (IE) Singapore has successfully facilitated a partnership between Surbana Jurong (SJ) and two SMEs, iFocus Pte Ltd (a hardware company) and S3 Innovate Pte Ltd (a data visualisation company) to clinch their first lift monitoring project in Guangzhou city. This marks the two SMEs' first overseas expansion. The project will comprise 100 sensors installed to monitor and analyse up to 600 lifts in private estates and government buildings in Guangzhou.
IE Singapore connected iFocus and S3 Innovate to SJ, enabling SJ to provide a comprehensive solution for lift monitoring. The project utilises SJ's Smart City in a Box™[1], a platform integrating multiple smart city solutions. The platform enables customisable applications on a unified dashboard for officials and developers to monitor developments in a city through data collation and analysis for effective solutioning. SJ's Smart City in a Box™ serves as the platform while iFocus and S3 Innovate provide hardware (sensors) for lift monitoring and user-friendly data visualisation respectively. (See Annex for more details on Smart City in a Box™)
In China, the total number of lift installation and maintenance market size is estimated to reach 5.9 million units and S$9.7 billion by 2020[2] SJ worked with IE Singapore on its overseas growth strategy for smart cities, starting in Guangzhou. Both identified SJ's established in-house solution in lift monitoring, analytics and testing as the first product to launch, given its track record of monitoring 25,000 lifts across multiple brands in Singapore. iFocus and S3 Innovate while having a keen interest in overseas markets lacked track record and connections.
Said Ms Kathy Lai, Deputy CEO, IE Singapore, "It is very difficult for SMEs to break into an overseas market for the first time. This collaboration enables all three companies to leverage one another's strengths collectively. iFocus and S3 Innovate benefit from SJ's in-market reach to capture overseas customers, while SJ tapped into their niche solutions, completing their offerings."
Said Mr Wong Heang Fine, Group CEO, SJ, "Surbana Jurong has over 30 years of experience in managing Singapore's public housing estates. Our proprietary platform and solution, customised with our partners' solutions, provide estate managers and city officials an effective way to manage and maintain the lifts. Beyond lift monitoring, Smart City in a Box™ also provides solutions for other aspects of city management. We hope this project provides a springboard into the bigger China market."
Mr Nicholas Soon, Director, S3 Innovate, shared, "S3 Innovate is pleased to work with SJ and IE Singapore on our first foray to China. The collaboration with a home-grown MNC like SJ enables us to leverage each other's capabilities and we hope to deliver this solution to other cities in the world."
SJ is now actively seeking to scale up its Smart City in a Box™ overseas. To support this, IE Singapore is partnering SJ to strengthen their manpower capabilities in project management and business development. SJ plans to work with the two SMEs on more projects. SJ is in discussions to bring Smart City in a Box™ solutions to more cities across China.
For media enquiries, please contact:
IE Singapore
Ms Foo Xiao Xuan, Manager, Media Division, Corporate Communications Group
DID      : (+65) 6433 4400
Email    : foo_xiao_xuan@iesingapore.gov.sg
Surbana Jurong
Ms Jackie Yu, Director, Group Communications
Tel       : (+65) 6839 7326
Email    : Jackie.yuwc@surbanajurong.com
About International Enterprise Singapore
IE Singapore is the government agency that promotes international trade and partners Singapore companies to go global.
We attract and anchor global trading companies in Singapore by promoting our unique advantages as a global trading hub. Today, Singapore is home to a complete ecosystem for the energy, agri-commodities and metals & minerals trading clusters.
Through our network of over 35 overseas centres and comprehensive assistance programmes, we partner Singapore companies to strengthen their global competitiveness.
IE Singapore will merge with SPRING Singapore to form Enterprise Singapore in Q2 2018. Enterprise Singapore will enable the growth of Singapore companies through an integrated support network to build business capabilities and access overseas markets.
Visit www.iesingapore.gov.sg for more information.
About Surbana Jurong Private Limited
Surbana Jurong Private Limited (SJ) is one of the largest Asia-based urban, industrial and infrastructure consulting firms. Leveraging technology and creativity, SJ provides one-stop consultancy solutions across the entire value chain of the urbanisation, industrialisation and infrastructure domains.
Headquartered in Singapore, the SJ Group has a global workforce of 13,000 employees in 113 offices across 44 countries in Asia, Australia, the Middle East, Africa and the Americas, and an annual turnover of around S$1.3 billion.
SJ has a track record of over 50 years, and has built over a million homes in Singapore, crafted master plans for more than 30 countries and developed over 50 industrial parks globally.
SJ's motto 'Building Cities, Shaping Lives' reflects its belief that development is more than just steel and concrete. SJ creates spaces and designs infrastructure where people live, work and play, shaping cities into homes with sustainable jobs where communities and businesses can flourish.
Visit www.surbanajurong.com for more information.
ANNEX
Smart City in a Box™ (Full press release – here)
Dubbed 'Smart City in a Box™', it is an integrated set of solutions with a dashboard that allows city officials to load customisable applications (Apps) in four key areas – security, efficiency, sustainability and community, enabling them to track, monitor and manage cities better
Smart City in a Box™ launched in July 2016 with eight modules
Some of the Apps provided in the first batch include:
Sustainability: energy saving e.g. smart lighting, energy usage monitoring
Security: facial recognition technology, water quality monitoring, smart lock, fire and smoke detection
People: feedback and engagement
Efficiency: asset upkeep and maintenance
Working with Surbana Jurong's city planners, customers can choose to deploy the relevant Apps from this set of solutions.
A survey conducted in July 2016 by Surbana Jurong amongst city leaders on Smart City readiness in conjunction with the World City Summit, revealed that over two thirds of city leaders listed that they are reliant on other cities for water and a quarter are also reliant on other cities for ICT services.
The Smart City in a Box™ aims to address the need for a coherent and standardised set of technology solutions to manage city operations.
Surbana Jurong's integrated smart city solutions were developed from over 30 years of experience deploying its proprietary Integrated Estate Management System (IEMS) in Singapore's public housing estates. The IEMS helps to monitor, relay, and analyse information to facilitate estate management.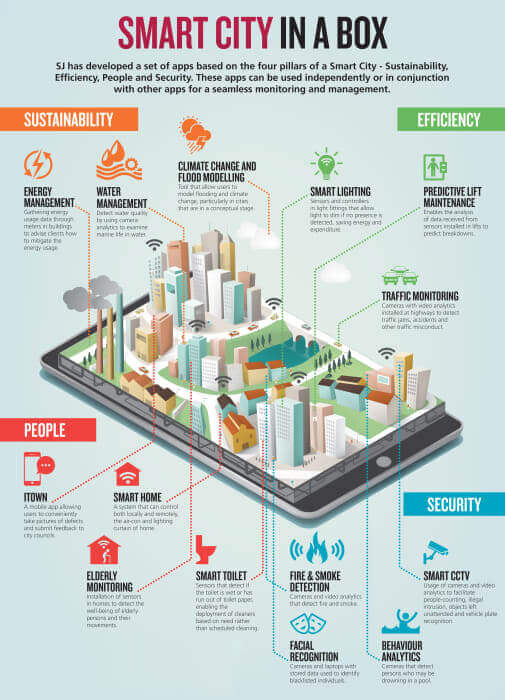 [1] Launched in July 2016
[2] China Elevator Association, 2016

---

Download Article