Surbana Jurong inks MOU and master plan contract with Wuzhou Port Economic Zone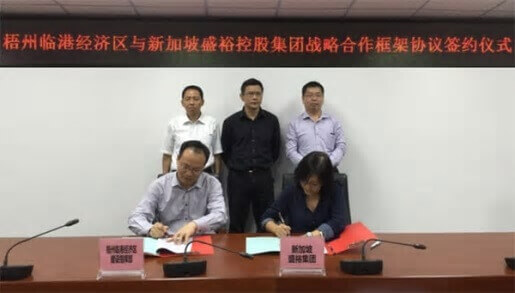 Surbana Jurong has clinched a contract this month to provide detailed control master planning consultancy services for the 23.5sqkm Wuzhou Port Economic Zone Start-up Area.
The project team, led by Ms Mao Whey Ying (Deputy CEO, International), travelled to Wuzhou City from 18-20 April 2016. Ms Mao signed a memorandum of understanding (MOU) with Wuzhou Port Economic Zone to enhance collaboration in various sectors such as park management, investment attraction strategies, and training opportunities.
Surbana Jurong will partner Guangxi Hualan Planning & Design Institute for the regulatory plan submission. This is a downstream project following the consultancy services for the conceptual master plan of the 61sqkm Wuzhou Port Economic Zone secured in Dec 2014.