Surbana Jurong China office clinches 3 new Project Management services contracts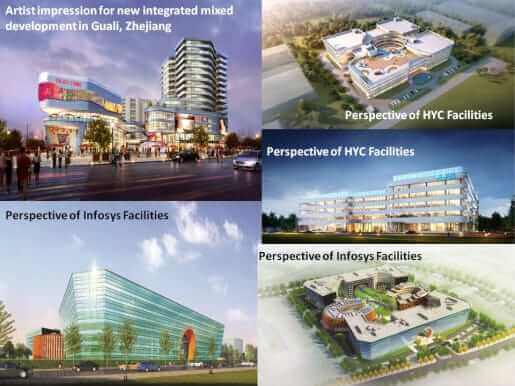 Joint Venture Company, Surbana-Enjoytown (Hangzhou) Secures Project Management Services Contract in Guali, Zhejiang, P.R. China
Surbana-Enjoytown (Hangzhou) Project Management Co. Ltd (SEPM), a joint venture company between Surbana & Enjoytown is proud to be appointed by Hangzhou Junyuan-Enjoytown Investment Management Co. Ltd to provide Project Management services for its new integrated mixed use development in Guali, Zhejiang.
The scope of Project Management services include Design Co-ordination, Tender Administration, Procurement packages review/co-ordination, on-site Project Management, Operations and Facility Management consultancy.
This new mixed integrated development will be similar to Singapore's Clementi New Town. The development encompasses a new bus terminal, public and basement carparks, cineplex, hotel, commercial, retail, shopping, kindergarten, library and 4 residential blocks. It is aimed to provide convenience to the local residents and transit passengers. The project is located in Guali, Zhejiang with an estimated land area of 32,000sqm and a GFA of 110,000sqm.
This is the first project of its kind to be developed in Zhejiang, China and it is also the first project that SEPM secured.
Proposed Design Co-ordination for Construction Drawing and Project Management Services for Suzhou HYC Electronic Technology Co Ltd
Located in Suzhou Industrial Park, Suzhou, Jiangsu Province, P.R. China, the project covers a land area of 23,392.22sqm and it has a total GFA of 56,205.11sqm. The total aboveground GFA is about 45,757,20sqm (which includes a manufacturing facility with a GFA of 36,381.61sqm, an office building with GFA of 8,209.29sqm and ancillary etc). The total underground GFA is 10,477.91sqm.
The services provided include Design Co-ordination for Construction Drawing and Project Management (includes Tender Administration).
This is the first project that is developed by a local client. The China team has leveraged on their track records in the industrial fields especially in Suzhou, SIP to meet client's requirement and adhere to the local codes.
Proposed Project Management Services for Infosys Campus Project (Building 5 & 6) in Shanghai Zi Zhu Science-Based Industrial Park
This project is located in Shanghai Zi Zhu Science-Based Industrial Park, Shanghai Min Hang Development Zone, Shanghai, P.R. China. The land area is 61,074sqm. The total GFA is 247,328sqf (23,002sqm), and it includes GFA for SPB 5 at 121,489sqf & SPB 6 at 121,947sqf and others (Gate House etc) GFA at 3,892sqf.
Surbana Jurong China office has been the Project Manager and Construction Manager of Infosys Technologies (Shanghai) Co., Ltd since the start of development in 2011. Earlier this year, the team was appointed to continue its Project Management services to Infosys. The services include Project Management for building 5&6 and Final Account for building 1&2.
---

Download Article