Temasek Foundation – Singapore Cooperation Enterprise capacity building workshop closing ceremony in Myanmar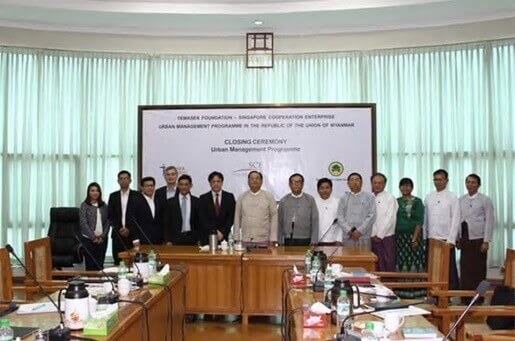 Surbana Jurong Myanmar office has successfully concluded its Temasek Foundation – Singapore Cooperation Enterprise (TF-SCE) capacity building workshop series which was held over a 8 month period from September 2015 to May 2016.
Singapore's public and private sector expertise were engaged to contribute to this customized programme in building the urban planning and management sectors of the Republic of Myanmar, these included Singapore's public sector partners such as Urban Redevelopment Authority (URA), Land Transport Authority (LTA), Public Utilities Board (PUB) and Building Construction Authority (BCA).
At the conclusion of the ceremony, the government expressed interest in further collaboration and technical assistance from Singapore and is keen to review policies on affordable housing with a priority on social housing for the urban poor and squatter resettlement matters.
"We look forward to continue work with SCE and TF for future workshop series as we continue to share our knowledge and expertise through these targeted programmes, crucial for planning in this new era of development in the growing country," affirms Mr Lee Leong Seng, General Manager, Surbana Jurong Myanmar office.
---

Download Article