Designation
Senior Director (Architecture)
---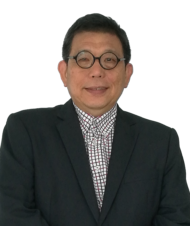 "Trinity of Architecture involves practice, research and sharing of architecture knowledge with Green as a new primary colour"
Ar. Dr. LOO Kok Hoo is a registered architect in both Singapore and Malaysia with over 29 years of experience in practice, teaching, research and collaborations with tertiary institutions to promote, explore and teach green architecture. He is a green facilitator (GBI), GreenRe Manager, Green Mark Consultant with project experiences in Singapore, Malaysia, India and China. The projects cover master and town planning, mixed development, resorts, hotels, high rise, offices, shopping Centres, shop houses, housing, condominium, university campuses, bungalows, temples, MRT & LRT Integrations and so on.
He believes in the Trinity of Architecture – to practice, research and sharing of architecture knowledge. Besides being a practicing architect, he is a researcher in green buildings working with research institutions in the region. At present, he works with the Surbana Sustainable Team to develop Global Competency Centres (GCC) connecting Singapore, Malaysia and China to promote green and sustainable design and planning in architecture on regional level.
His academic qualifications from National University of Singapore includes Bachelor of Arts (Architectural Studies) 1986; Bachelor of Architecture (Hons) 1989; Master in Architecture (as Research Scholar) 1994 and Master in Business Administration 1997. His strong desire in sustainability propelled  him to acquire more knowledge and further pursued from University of Nottingham, England a Master of Science (Sustainable Building Design) 2009 and a PhD (Architecture) 2016 on sustainable research from University Putra Malaysia.
---
Passive Cooling Strategy in Designing Public Assembly Building
Passive cooling strategy is a key element of sustainable building. Its optimum performance and potential benefit can be realized with careful and meticulous design. As a design option for public assembly spaces, however, passive cooling strategy is seldom given a fair consideration as compared to the mechanical cooling approach, especially
see more